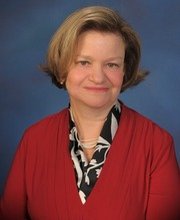 Professor of Elementary and Early Childhood Education
BS, Clark University
MA, Assumption College
CAGS, Lesley College
EdD, University of Massachusetts at Lowell
Dr. Elaine M. Bukowiecki is a professor of literacy education for the department of Elementary and Early Childhood Education at Bridgewater State University. Elaine joined the Bridgewater State University community in 2003, where she teaches graduate level courses for the MEd and CAGS programs in Reading. Elaine has served as Graduate Coordinator of the Graduate Programs in Reading from 2009-2015. In 2014, she was appointed by then Dean Karim Ismaili to serve as Graduate Faculty Fellow for the College of Graduate Studies. As Graduate Faculty Fellow, Elaine has predominantly worked with graduate student research and funding. In June 2015, she was appointed by the president of Bridgewater State University to serve as Acting Chairperson for the Department of Counselor Education for the 2015-2016 academic year.
Dr. Bukowiecki has research interests in the academic disciplines of critical literacy and content-area literacy. She has published widely in academic journals regarding this topic and has presented papers and workshops at local, state, national, and international conferences about critical literacy and content-area literacy. In 2014, she published two books regarding the inclusion of literacy techniques in social studies teaching and currently is in the final stages of co-authoring a book regarding the inclusion of informational texts in kindergarten through third-grade classrooms.
Dr. Bukowiecki spent 28 years working in public education, first, as an elementary school classroom teacher for the Shrewsbury, Massachusetts Public Schools and second, as a language arts consultant and district-wide language arts coordinator for the Putnam, Connecticut Public Schools. She is past president of the Massachusetts Reading Association.
Dr. Bukowiecki received a Bachelor of Science degree in English from Clark University, a Master of Arts in Teaching English degree from Assumption College, a Certificate of Advanced Graduate Studies in Reading from Lesley College, and a Doctorate in Education with a concentration in language and literacy from the University of Massachusetts at Lowell.