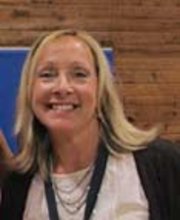 Dr. Guy C. Clifford House
AA, Bristol Community College
BS, Emerson College
MPA, Bridgewater State University
Paula Montgomery currently serves as the Campaign Manager for the Campaign to Re-Elect Jon Mitchell, Mayor of New Bedford. Paula is a part-time instructor for the Certified Public Manager Program teaching a one-credit course on Change Management. Paula received her MPA degree from Bridgewater State University in 2011.
Paula has spent 17 years in leadership and management roles with national non-profits. Prior to joining Mayor Mitchell's re-election campaign she was the Executive Director for the American Red Cross Rhode Island Chapter. Paula also served as the Rhode Island Regional Director for Make-A-Wish MA and RI. Prior to that role, she served in a number of capacities with the American Cancer Society where her last position was State Vice President of Development.
Paula's undergraduate degrees from Emerson College and Bristol Community College are in Communications and Broadcast Journalism. She serves on the Board of Directors of the Association of Fundraising Professionals Rhode Island Chapter where she has served as co-chair of National Philanthropy Day in 2010, 2014, and 2015. Paula was nominated for a Cable Ace by the National Academy of Cable Program as a producer of a three part series titled Heroin: Back on the Streets in 1998.