The BSU African Studies Program invites you to An Evening of Music from Mali, performed by Balla Kouyaté, internationally acclaimed balafon musician, on Friday, Oct 6 from 6-7p.m., in the RSU Small Ballroom.
Born in Mali, Balla Kouyaté was raised in the Djeli tradition. Djelis are the oral historians, musicians, and performers who keep alive and celebrate the history of the Mandé people of Mali, Guinea, and other West African countries. Balla's family lineage goes back over 800 years to Balla Faséké, the first of an unbroken line of djelis in the Kouyaté clan. His knowledge of his traditional repertoire is unparalleled.
In 2010, Balla Kouyaté was awarded a Mass Cultural Council Fellowship in the Traditional Arts. In 2014, Balla and his son Sekou were awarded a Mass Cultural Council Traditional Arts Apprenticeship, helping to ensure the continuance of this hereditary art.
Today, the first balafon, over 1000 years old, remains in his family, guarded by his father, El Hadji Sekou Kouyaté. It is considered a UNESCO Artifact of Oral and Intangible History.
An Evening of Music from Mali
is open to the BSU community and the public.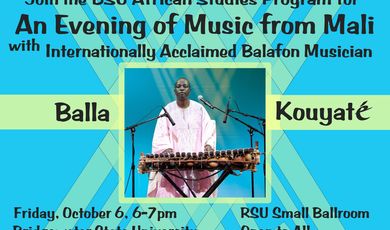 ---