Join the Irish Studies Program and the Maxwell Library on Thursday, September 28, from 12:30 - 2 p.m. in the library's Heritage Room, for the first of two Irish Cultural Heritage Day events: IRELAND AND THE GLOBAL GOTHIC. Dr. Mindi McMann, Associate Professor of English at The College of New Jersey, will discuss the Gothic in Patrick McCabe's 1992 novel, The Butcher Boy, the macabre story of one boy's shatteringly distressed life.
Dr. McMann's research and teaching interests focus on the intersections of literature, politics, ethics, and nationalism, using contemporary British and Anglophone literature as the center point of her work.
IRELAND AND THE GLOBAL GOTHIC is open to the BSU community and the public.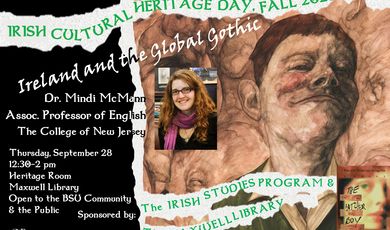 ---