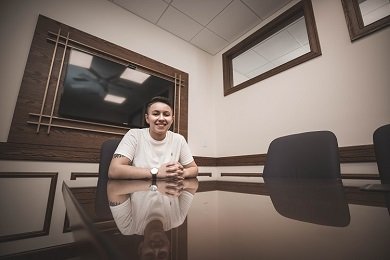 "...no matter what you want to do, if you work hard at it I, if you want it bad enough, you will find a way,"
There are those who use the obstacles and struggles life throws them as motivation. Mariah Lima, '20, is one of those people.
At just 16-years-old, the Bridgewater State University accounting major made the difficult decision to leave home after tensions arose over her sexuality. Mariah identifies as lesbian.
"I grew up pushing my sexuality aside. I didn't want to paint a target on my back growing up," she said. "As I got older, I realized I was only going to be happy if I accepted who I truly was and lived authentically."
She finished high school supporting herself and at times experienced homelessness. To survive, she stayed with friends and worked three jobs.
After finishing high school, Mariah knew she wanted more and was determined to be a role model for her two younger siblings.
"I wanted to show them that no matter what you want to do, if you work hard at it I, if you want it bad enough, you will find a way," she said.
Find a way she did, breaking through each roadblock along the way.
After two years at Bristol Community College, she transferred to BSU and began to formulate a plan that would eventually lead to a job offer from PricewaterhouseCoopers (PwC), a prestigious Big Four accounting firm.
"I knew if I worked hard enough, I could get to PwC one day," Mariah said.
To achieve her goal, Mariah took part in BSU-sponsored networking events where she was introduced to alumni who work at PwC.
"At first, I was intimidated, but quickly realized each of them were just like any other person. I felt comfortable asking them what I needed to do to get involved, what would it take to work at PwC," she said.
Last year, Mariah secured a summer internship with PwC in Boston. Carol Crosby , assistant director of BSU's internship program, helped her with the application process. Together, they tweaked Mariah's resume and worked on interviewing skills.
"She really helped to motivate me," Mariah said.
As an intern Mariah took full advantage, offering to work on a variety of projects and teams, networking and putting in the extra hours to absorb as much as possible.
"By the end of the internship, people knew my name," she said.
Her ambition and hard work paid off and she was offered an accounting job with the firm. She is scheduled to start work at PwC this fall.
"The idea of being in Boston and working for a Big Four firm, that was my ideal of success," she said. "I proved to myself that hard work and motivation can get you to where you want…I really did it."
Crosby, who helped Mariah on the way, isn't surprised and proud of her success.
"Mariah has a wonderful gift – drive," she said. "It is possible that she was born with that amazing talent that inspires people to success. But she also has experienced hardship in her life and I believe that those difficult times may have provided her with the strength and courage to want more and act on that.  She is truly a positive force in the world."
Do you have a BSU story you'd like to share? Email stories@bridgew.edu