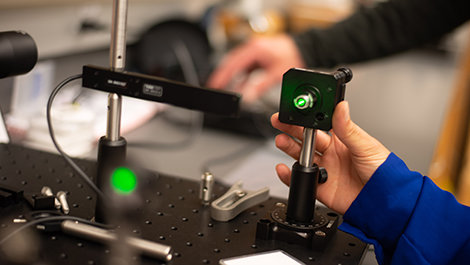 English professor discusses use of Native American people and symbols by sports teams, organizations 
Dr. Joyce Rain Anderson, a professor in the Department of English, told WBZ those teams, mascots and organizations should be renamed. Watch the story.
Communication studies faculty member writes piece for Ms. magazine
Dr. Michele Meek, an assistant professor in the Department of Communication Studies, weighed in on race and gender inequities in the film industry. Read her piece in Ms.
Track athlete featured on NBC 10 Boston
Despite the COVID-19 pandemic cutting short his BSU athletic career, Josh Winsper, '20, hopes to compete in the Paralympics. Watch the story. 
Societies support first students in new photonics program 
The Institute of Electrical and Electronics Engineers Photonics Society, the International Society for Optics and Photonics, and the Optical Society are funding tuition for the first 15 students in a new photonics-technician program that Bridgewater State University and Stonehill College are launching this summer in collaboration with Massachusetts Institute of Technology. Read more at MIT News.
Alumnus highlights value of internships 
The Washington Center featured Augusto Goncalves, '12, who describes how his internship at the U.S. Department of Housing and Urban Development helped launch a career in politics. Goncalves is now finance director for the African American Leadership Council at the Democratic National Committee. Read the feature. 
Social work student pens guest column in The Sun Chronicle
Shannon Zimmerman, a graduate student studying social work, wrote a guest column in The Sun Chronicle about the need for more law enforcement training to fight child exploitation. Read the column.
Criminal justice professor featured on The Academic Minute podcast
Dr. Michael Devalve, an assistant professor in the Department of Criminal Justice, discusses justice and the failure of past reform efforts on The Academic Minute podcast. Listen to his episode.
President Clark co-writes op-ed on photonics in Boston Business Journal
Bridgewater State University is entering the burgeoning field of photonics. President Frederick W. Clark Jr., '83, outlined the benefits new photonics programming will have for students, the region and the state in an op-ed written with the Rev. John Denning, the president of Stonehill College. BSU and Stonehill received a state grant to open a photonics training center and lab.  Read more in the Boston Business Journal.  
History professor's commitment to training service dogs featured in The Patriot Ledger
Dr. Brian Payne, a professor of history, and his family raise guide dogs for the nonprofit Guiding Eyes for the Blind. He's also involving BSU students. Read more about him in The Patriot Ledger.
The Enterprise features BSU professor's research on geckos
Dr. Thilina Surasinghe, an associate professor of biological sciences, is part of an international team discovering new species of geckos in Sri Lanka. Read more in The Enterprise.
Bridgewater alumna inspires high school athletes
Laney Clement-Holbrook, '75, who played softball and basketball at Bridgewater State, inspired hundreds of female high school athletes at the Massachusetts Interscholastic Athletic Association's Girls and Women in Sports Day. Read about her speech in The Boston Globe.
Clement-Holbrook, who coaches basketball at Oliver Ames High School in Easton, also recently earned her 700th win.
WHDH highlights emergency notification system
Television station WHDH covered BSU's new one-button emergency notification system. Read more.
BSU staffer interviewed on Boston 25 after becoming Miss Massachusetts USA
Sabrina Victor, who works in Human Resources and Talent Management, spoke with Boston 25 about being Miss Massachusetts USA at a time when the Miss Universe, Miss USA, Miss Teen USA, Miss America and Miss World titles are all held by black women. Read more and watch the video.
Englander quoted in Reuters article about teen sexting
Dr. Elizabeth Englander, a psychology professor and the executive director of the Massachusetts Aggression Reduction Center at BSU, commented on a new paper about teen sexting. Read more in Reuters.
Psychology professor speaks to WBUR about bullying
Dr. Elizabeth Englander, a psychology professor and the executive director of the Massachusetts Aggression Reduction Center at BSU, spoke to WBUR about progress combating bullying in Massachusetts school districts. Read more and listen to the audio clip.
Political science professor's research cited in The Boston Globe
Dr. Brian Frederick, a political science professor, has researched how a cap on the size of the U.S. House affects representativeness as the country's population grows. Columnist Jeff Jacoby cited his work in a piece in The Boston Globe.