The Community Service Center organizes opportunities for students to engage with their community. Throughout the year we facilitate service projects on campus and organize trips to local nonprofit organizations in the surrounding communities. Community Service Center students and staff lead orientation and reflection activities and provide supplies and transportation.
On Campus Engagement
There are events held on campus to build community among students, staff and faculty through intentional conversation, action and service activities that focus on various social justice topics throughout the year. These may be guided do-it-yourself projects or collaborations with other departments or student groups.
Local Service Projects
There are multiple off campus volunteer opportunities each month that offer BSU community members the chance to engage in the local community. BSU volunteers serve the community directly at local service sites such as School on Wheels in Bridgewater, Gifts to Give in Acushnet, My Brother's Keeper in North Dartmouth, and Old Colony YMCA in Brockton.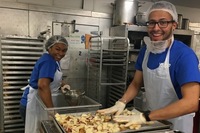 Community Engagement Fellows
Through this paid community-based learning experience students engage in nonprofit programming, explore careers in the nonprofit sector and examine public policy. Fellows are selected for a one year commitment in the fall and are offered leadership development opportunities throughout the year, in addition to working closely with an identified organization in the region.
Legacy Page Title
Local Volunteer Opportunities
Legacy Content Type
Tertiary Page