The One Button Studio (OBS) in Maxwell Library 113 is a simple method for recording video and audio without requiring any tech experience, video production experience, or training and support. To use the One Button Studio for video or podcast recordings, reserve the room today.
The Studios
The presentation studio has an adjustable camera, a whiteboard, a projector, a podium, and a computer. The computer can be used for loading presentation content, such as a PowerPoint slideshow. Bring a USB thumb drive or save your video to the presentation computer and then upload it to OneDrive, Office 365 Stream, or YouTube.
The podcast studio is equipped with two microphones and a free, open source audio recording software called Audacity.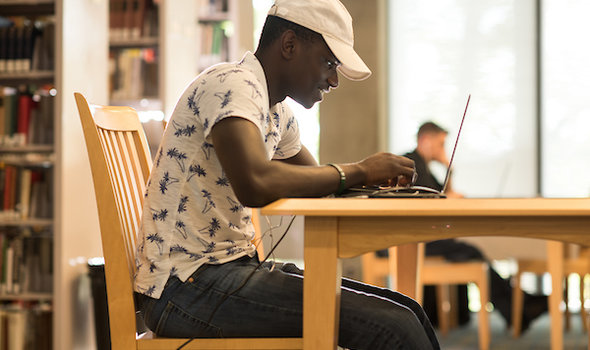 Experience IT
BSU offers a high speed, secure wireless network with full campus coverage. We offer wireless WEPA printing and scanning services at various sites on campus. For students living on campus, ResNet offers an enviable technology package including Xfinity on demand content, premium cable TV, and wireless gaming. For commuters, our mobile app includes a smart parking feature to indicates parking lot availability and our bus tracker indicates the current position of shuttles.
Legacy Page Title
One Button Studio
Legacy Content Type
Interior Page