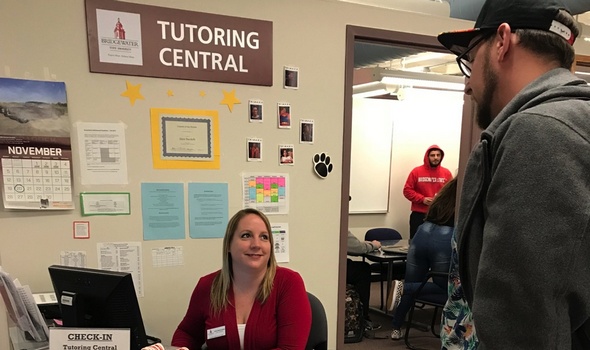 The Academic Achievement Center (AAC) houses a variety of services that support the intellectual growth and success of students. Our Learning Assistance program, offered in the AAC, provides free tutoring in writing, mathematics, communications, English as a second language, and a variety of Core Curriculum and beginning level courses. If you are experiencing difficulty in a class or want to develop new strategies, our staff is here to help you strengthen your critical thinking skills and build self-confidence for college and beyond. For further information regarding any of the services listed below, please reach out to Kathryn Crisostomo at kcrisostomo@bridgew.edu.
Academic Coaching
provides assistance to students regarding general study, organizational, and research skills; time management; use of electronic databases; organization of course notes; strategies for combining class lectures with textbook information; and test-taking strategies.
Accounting & Finance Lab
focuses on helping students learn how to study accounting. Upper level accounting and finance majors work with small groups and individual students to develop analytical skills and effective strategies. Review sessions are held for midterm and final exams.
Tutoring Central (Content Tutoring)
one-on-one and small group tutors are available for courses in the Core Curriculum or beginning level courses within a major. Faculty can recommend successful students from their classes to become tutors as well.
Math Services
supports students in core mathematics courses with free, drop-in tutoring assistance. Tutors help students to reinforce class material, prepare for exams, develop positive study habits, and become persistent problem solvers.
Second Language Services
provides assistance to students for whom English is a second language. Students develop effective strategies to increase clarity, fluency, linguistic accuracy, and creativity in English. Consultations on inclusive pedagogy and second language issues are available for faculty upon request.
Writing Studio
offers supportive feedback to students who are developing, organizing and brainstorming papers in all disciplines. Papers are welcome at any stage of the writing process – from just getting started to final editing.