May is Mental Health Awareness Month!
Fostering Physical, Emotional and Personal Wellness
To make the most of your education at Bridgewater, you need to maintain good health as well as physical, emotional and personal wellness. The Wellness Center offers a range of vital services and support to help you achieve these goals. Whether you need health advice, assistance in a crisis, or care for a specific illness or condition, our helpful and experienced staff members are at your service.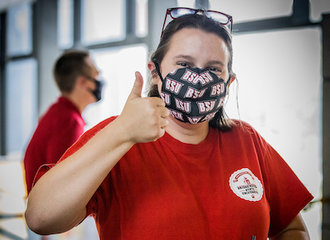 The BSU CARE Team is a multidisciplinary team of experts and points of contact that meet regularly to improve coordination and communication for the academic success, health and safety of the community.
The CARE Team accepts referrals and responds to students (and their families, faculty, and staff) when concerns for a student's health, welfare, and safety are identified.
The CARE Team is not for emergencies. Referrals are monitored Monday - Friday, 8 a.m. - 5 p.m. Please call 911 if there is an immediate threat to a student's safety or well–being.
Featured News
Campus community offers assistance in-person and online for students
The Wellness Center has a wide range of support services for students
How Dr. Christopher Frazer, his staff and volunteers rose to the COVID challenge