BSU Works represents our commitment to:
Providing all students with the strong educational foundation and skills necessary to thrive in a highly competitive work environment or continue their education in graduate, law or medical school.
Connecting students to job experiences and opportunities with hundreds of employers so students can explore possible careers and make important connections.
Delivering programs that are aligned with the changing workforce needs of a modern economy. The investments we make in our students work — more than 90 percent of alumni are employed or in graduate school within a year of graduation.
We say BSU Works because it does.
Class Outcomes
92%
of graduates secure jobs or enroll in graduate school six months to a year after graduation
78%
of grads who say their academic program prepared them for their jobs
1,800
students participate in undergrad research annually
BSU was also ranked by Education Reform Now as the second leading university in Massachusetts for making a social mobility impact on students from a wide range of socioeconomic backgrounds and identities.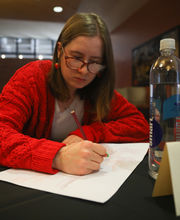 I feel less overwhelmed with post-college planning. I learned steps to take right now to help me feel more prepared and excited about choosing a career.
BSU criminal justice major and social work minor on the Life Design program
Michael Akinbola, G'17, Assistant Athletic Trainer and Physical Therapist for the New England Patriots