As a student-centered university focused primarily on excellence in teaching, Bridgewater State is committed to the professional development of its full-time and part-time faculty and librarians. This commitment is provided to them through all stages of their careers and across all disciplines and in all relevant areas of professional attainment, including teaching, scholarship and work/life balance.
Through faculty development, we aim to establish and sustain a community of teacher-scholars and a university culture that values, promotes, and rewards meaningful professional growth.
Bridgewater Review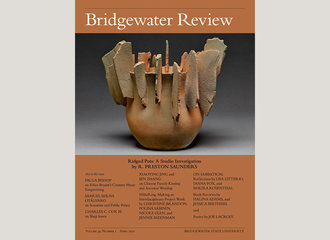 Volume 39, Issue 1 (2020)
The Bridgewater Review is published twice a year by the faculty and librarians of Bridgewater State University.
In this issue: Felice Bryant and Country Music Songwriting in the 1950s; Shuji Isawa and Bridgewater State Normal School, 1875-1878; Scholar-activist Anthropology in Nepal: Radical Women Artists on the Liberation Front; and more.
Featured News
English professor reflects on the varied aspects of 'The Boys in the Band'
Sociology Professor to study in Sweden