 BSU Online Deans & Departments Week
Join us for our online 2021 Fall Deans and Departments Week to learn more about your major. We are showcasing our individual academic departments according to their college on separate days during the week of Nov. 29–Dec. 2, daily from 4–5 p.m.
These live interactive sessions hosted by our academic deans will feature faculty and current students from your major. They will highlight all the reasons why you'll want to seriously consider applying for admission to our community of hardworking practical dreamers at BSU.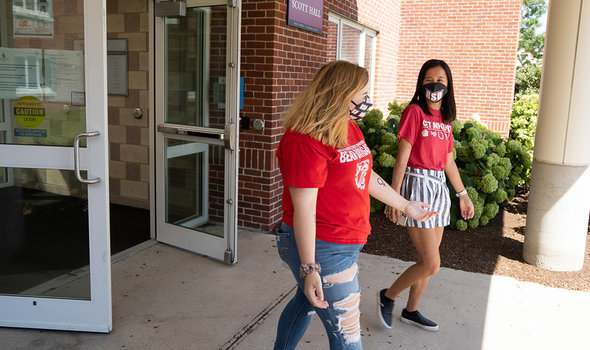 Join us for a student-guided tour, Monday through Friday and select Saturdays, with all the necessary physical distancing precautions to keep you and our campus safe.
You and your guests will be assigned to a student tour guide who will share their personal perspective and insights while you walk our beautiful campus for a 90-minute tour. Tours include the interior of several buildings on campus including but not limited to the DMF Science Center, Library, Student Union and East Campus Commons.
Student guided tours are also offered in Spanish, Portuguese, Arabic, German, and Cape Verdean Creole. Please fill out this online form to help us arrange your translated tour. Undergraduate Information Sessions and Tours, offered weekly on Friday mornings, are ideal for those who want the convenience of both a formal presentation and a student guided tour in the same campus visit.
These weekly programs start on Fridays at 10 a.m. with a 30-minute information session presented by the Associate Dean of Admission, which highlights how we deliver an exceptional value and overviews the admission process. You and your guests will then be assigned to a student tour guide for a 90-minute walking tour of our beautiful grounds and facilities.
In light of the increase in positive cases of the COVID-19 Delta variant in our region, face masks are required indoors during your tour (regardless of vaccination status).
Availability of tour dates and times are subject to change as we continue to closely monitor COVID-19, so please check back regularly for the latest updates on tour opportunities. Also be sure to join our online offerings: Afternoons with BSU, Admission Info for Prospective Families and our Virtual Tour.
There is no better way to learn about Bridgewater and all that makes it the right choice for you than by visiting our main campus. Get to know the university by exploring our virtual campus tour and by attending an online information session.
BSU Tour Guides Answer Frequently Asked Questions
Margins
no-margin-top
no-margin-bottom
Legacy Page Title
Visit Bridgewater State University
Legacy Content Type
Full width page