 Admitted Student Fridays
We are excited to offer this on-campus event to admitted students and their families to showcase our gorgeous campus while being safe during the COVID-19 pandemic. Programs will be held completely outdoors.
Each program will consist of an enhanced student-led tour of campus with five extended stops along the way to provide in-depth information. A total of four separate tour groups will depart on the half hour and each tour will be approximately two hours long, limited to groups of 20 per tour.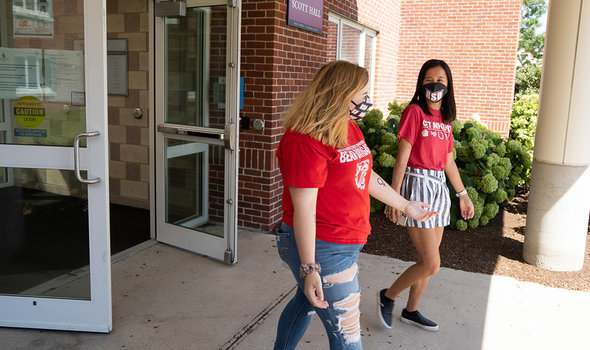 Join us for a one-on-one student-guided tour, Monday through Saturday, with all the necessary physical distancing precautions to keep you and our campus safe.
You and your guests will be assigned your very own student tour guide who will share their personal perspective and insights while you walk our beautiful campus for a 90-minute tour. Reservations are required to ensure that we can assign one tour guide to each prospective student and their guests. Self-Guided Tour
Come to campus and practice physical distancing on a self-guided tour.

Pick up a self-guided tour packet outside the Welcome Center (45 Plymouth St.), or use our Virtual Tour on your mobile device as your guide.
In accordance with state public health guidelines, face masks must be worn at all times on campus, guests must stay six feet away from other groups and buildings will not be accessible at this time.
Due to current restrictions in the state's COVID-19 Travel Order , only prospective students and guests who are residents of Massachusetts are allowed to participate in our student-guided tours. Those who are from a state other than Massachusetts with a current negative COVID test may email gmeyer@bridgew.edu to make special arrangements for a campus tour.
Availability of tour dates and times are subject to change as we continue to closely monitor COVID-19, so please check back regularly for the latest updates on tour opportunities. Also be sure to join our online offerings: Afternoons with BSU, Admission Info for Prospective Families and our Virtual Tour.
There is no better way to learn about Bridgewater and all that makes it the right choice for you than by visiting our main campus. Get to know the university by exploring our virtual campus tour and by attending an online information session.
BSU Tour Guides Answer Frequently Asked Questions
Margins
no-margin-top
no-margin-bottom