Bridgewater State is a great place to live and learn! We're dedicated to helping make your transition to living in the residence halls as smooth and successful as possible. There are a host of exciting opportunities and benefits of being part of our on-campus community, and we're here to make sure you take advantage of them all. 
Accepting Housing Deposits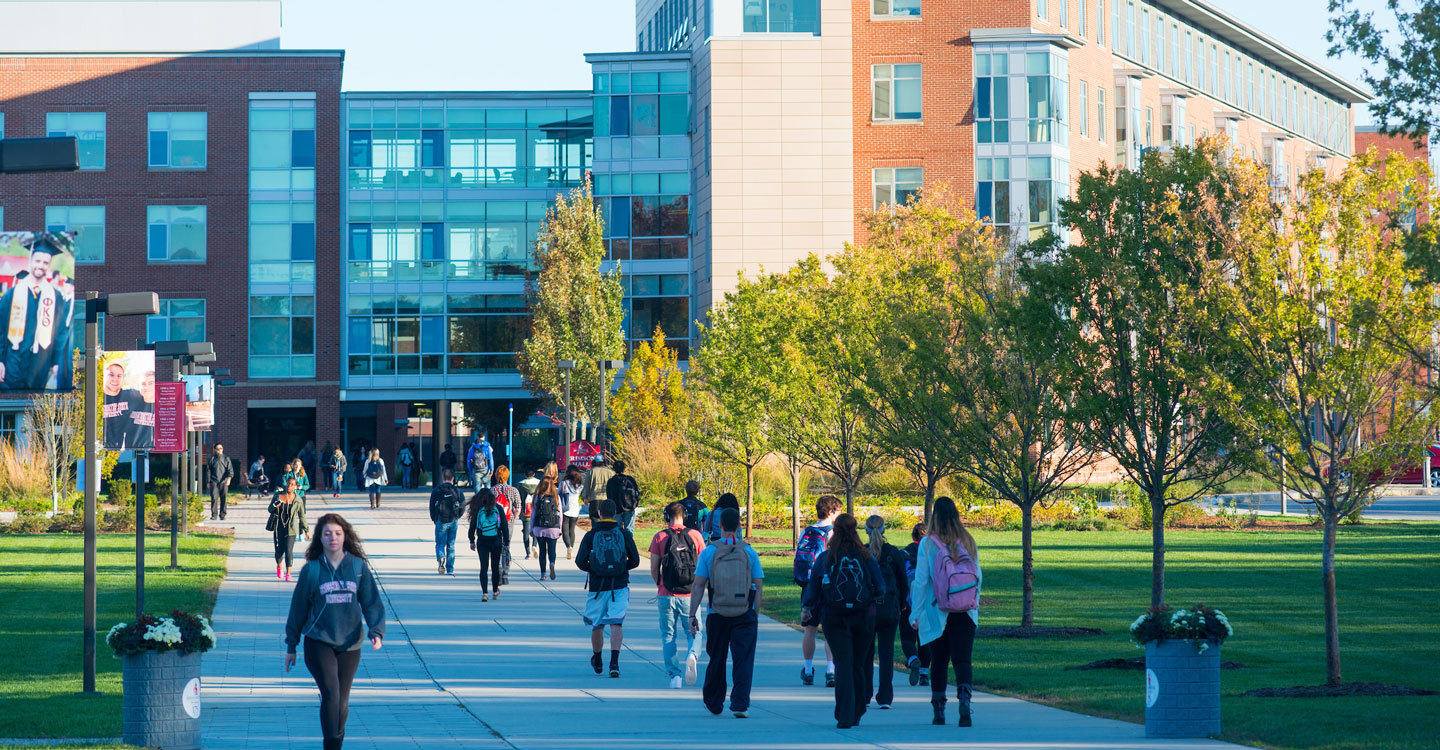 Residence Halls
Approximately 3,300 undergraduate students live on campus in 11 residence halls, which are differentiated by type of rooms and living arrangements and the class standing of residents.
Top 10 Reasons to Live on Campus!
STUDENT SUCCESS—When you live on campus you have better access to academic supports, from meeting with professors to taking advantage of the Academic Achievement Center and other resources!
SAFETY—With facilities on-call 24/7 and BSU Residential Safety and Student Security Officers located in residential buildings, you can take solace knowing help is there when you need it, any time of day and night.
COMARADERIE—You live alongside folks and create long-lasting friendships you might not have otherwise. With activities always happening, it's easy to get a group together to participate.
ALL-INCLUSIVE—You don't have to worry about being late with the utility bill, because it's all included and you never have to cook thanks to customized meal plans. The ResNet all-in-one communications package is hard to beat, offering one of the best cable packages around that includes specialized technical support and innovative services.
NO PARKING HASSLES—Finding a parking spot on any college campus is often a challenge. Instead of circling the campus behind the wheel of a car, you can walk, or better yet take a free bus offered through BSU's Transit Service.
GROWTH—Living on campus helps you develop social and independent living skills that you'll utilize in the "real-world."
TRAVEL LIGHT—Instead of dragging everything around campus with you, you can drop your belongings off in your room between classes.
SLEEP IN—Feel free to hit the snooze button and still make it to class on time.
CONNECTION—Students who live on campus say it's easier to create a closer connection to the institution that fosters a sense of school pride.
CELEBRITY SIGHTINGS—Best of all, you increase your chances of running into President Fred Clark!
The Benefits of BSU Life
The On-Campus Community
Resident students have the opportunity to make the most of their university experience in an environment with easy access to campus resources.
Living on campus is an important part of your social and academic growth. Research has shown that students who live on campus are more satisfied with their overall experience, perform better academically and graduate at higher rates.
We support a community based on individual responsibility, where there is an appreciation of individual differences and a respect for individual rights. Residence Life and Housing staff work to enhance student interactions, community development and leadership by offering a variety of programs, services and opportunities.
Gender Inclusive Housing
Bridgewater offers students the opportunity to live with other students regardless of their assigned gender, gender identity or expression. For more information, visit the gender inclusive housing page or the transgender resources page.  
A Living and Learning Experience
You will learn a great deal outside of the classroom. The residence hall staff fosters learning through floor meetings, educational and social programs and daily interactions with residents. You are encouraged to be an active and contributing member of your community.
Living Learning Communities
Living Learning Communities (LLCs) provide students with the opportunity to live among others with similar interests and academic focuses. Students who choose to live in a learning community benefit from targeted programming and access to resources that will help them become more successful while at the university. Living in an LLC affords students the chance to connect their academic goals with their cocurricular interests. The staff in Residence Life & Housing partners with faculty to create a true living and learning environment conveniently located in a residence hall community.
First-Year Honors Living Learning Community
This LLC gives the students the distinct advantage of connecting with the honors faculty who support the program. The LLC provides first-year honors students the opportunity to live among other budding scholars in a setting that complements the student-learning process outside of the classroom.
Community Engagement Living Learning Community
This LLC provides students with a supportive environment as they explore important social issues and injustices through the lens of community engagement. Students engage in activities and discussions designed to develop their understanding of the different ways they can actively participate in their communities and become agents of positive social change.
Lavender Living Learning Community
This LLC provides LGBTQ+ (includes but not limited to asexual, bisexual, gay, lesbian, non-binary, pansexual, transgender, two-spirit, queer, questioning, and ally) students with safe and consistent spaces to build community, foster identity development, and increase knowledge of LGBTQ+ topics and scholarship.
Music Living Learning Community
This LLC provides Music majors and minors a safe environment where students can write, arrange, and perform music while being supported by colleagues and mentors. The LLC also provides assistance and tutoring for students enrolled in our Music theory sequence.
Science and Mathematics Living Learning Community
In partnership with the Bartlett College of Science and Mathematics, this LLC provides support, networking, and community-building opportunities to students majoring in or interested in biology, chemistry, computer science, earth science, geography, mathematics and physics.
Make Your Vote Count Living Learning Community
Beginning with the 100th anniversary of women's suffrage in the U.S. and the consequential 2020 national election, the LLC will explore concepts of citizenship, rights, power and responsibilities: why voting matters, why your vote matters, how to meaningfully effect change through civic and community engagement, who has the right and access to vote and who doesn't.
It Takes a Village Living Learning Community
This LLC builds upon recent scholarship that recognizes the political possibilities of liberatory social change through collaborative friendships and partnerships. The mission of this LLC is to both explore and demonstrate how living and organizing within friendship, living and learning circles offers new ways of dreaming and struggling for social justice in cross-cultural contexts, stemming from an awareness of the articulation between local and global conditions ("glocalism") and transnational community partnerships.
Healthy Living and Self-Care Learning Community
The mission of the Healthy Living and Self-Care Community is to provide a safe, supportive and productive space for students to discover and learn about facets of wellness and self-care necessary for balancing emotional, mental and physical demands. This community seeks to foster individual and collective awareness about the importance of self-care and wellness in fostering personal, academic and professional success at BSU and in their eventual careers.
Resources for Residential Students
Residence Life & Housing Staff
The Office of Residence Life & Housing, comprised of full-time professional and administrative staff in addition to part-time student employees, responds to the needs of the resident population. Area Coordinators (ACs) and Resident Directors (RDs) are full-time, live-in professional staff members trained to deal with issues of student life and residence hall administration. ACs and RDs are responsible for the quality of life in their assigned area and supervise a student staff of resident assistants. Resident Assistants (RAs) are students chosen for their leadership and interpersonal skills. RAs live in the halls and provide support on a variety of subjects ranging from personal and academic concerns to conflict mediation and program implementation. At least one RA is on duty in each residence hall every evening from 7 pm until 7 am the next day.
TV, Cable and Wi-Fi Services
ResNet services include internet, printers, cable TV as well as movie streaming. BSU offers 100% wireless coverage in all residence halls, classrooms and administrative buildings.
ResNet provides resident students a customized Comcast cable TV service. Our programming of 125+ HD channels include HBO, sports channels, and many other favorites. A digital TV with a QAM tuner is required.
Stream movies and TV! ResNet Cinema allows students on-campus to stream newly released movies through our on-demand website, as well as on BSU cable TV channels. 
Residential Security
All residence halls are locked at all times. Access is monitored 16 hours a day, from 11–3 a.m. by full-time Residential Safety Officers (RSOs) at Shea, Durgin, Woodward, Scott Halls and the Great Hill Student Apartments. Student Security Officers (SSOs) work at the entrance of all other halls from 5 p.m.-2 a.m. Security staff register guests and ensure community safety.
Parking
Resident students with 24-plus earned credits are allowed to have vehicles on campus. Every motor vehicle parked on campus must have a valid decal or temporary pass. For more information contact the Parking Services and Connect Card Office at 508.531.2897
Connect Card
The Connect Card is the official Bridgewater State University identification card and a convenient method to access a wide range of services on campus. It can be used in dining halls for your meal plan and as a debit card on and off-campus with participating merchants. The Connect Card is the university library card and is used to control access to residence halls.
Buses
BSU transit offers free and continuous on-campus transportation of the BSU community.
Tobacco Free Policy
Smoking and tobacco use is prohibited on all university property.
Wellness Center
The BSU Wellness Center, located in Weygand Hall, provides medical and mental health services to all students. The clinic provides walk-in and scheduled counseling appointments; scheduled health service appointments; and diagnostic tests for streptococcus and mononucleosis, among other conditions.
What to Bring
View the packing list for residential students.
Room Selection Process
Read an overview of the room selection process.
Residence Hall Association
The Residence Hall Association is an organization of students who serve as a governing body of the residence halls. RHA provides funding for programming, and works with students with problems and concerns regarding residential student life.
National Residence Hall Honorary
The BRISTACO Chapter of NRHH works hard to establish and maintain good community on campus and in the residence halls, promote leadership by example, and work to give back to our surrounding community as well. We strive to recognize students for their accomplishments, some that may go unnoticed at times, to ensure that the effort will be put into all they do at BSU, large or small.
Residence Hall Policies
See the Student Handbook for more details on policies and rules pertaining to BSU Residence Halls.
Student Employment Opportunities
Residence Life and Housing offers a variety of jobs for residential students, including:
Resident Assistant​

Program Assistant

Office Assistant​

Student Security Officer

Summer Conference Assistant

Summer Desk Assistant
View current student jobs on Jobs @ BSU.