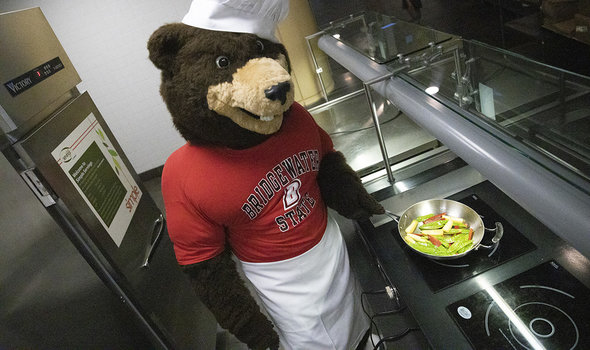 Skip the line and save some time! Now introducing Grubhub for all your campus dining!
Download the app, order your favorites and take your food to-go. Your meal plan is synced up to Grubhub, so you can use Dining Dollars for tasty tacos at Quixote's or your perfect Pink Drink from Starbucks.
Grubhub pick-up is available at the following campus dining locations: The Bear's Den, East Campus Commons and Starbucks in Crimson. Enjoy!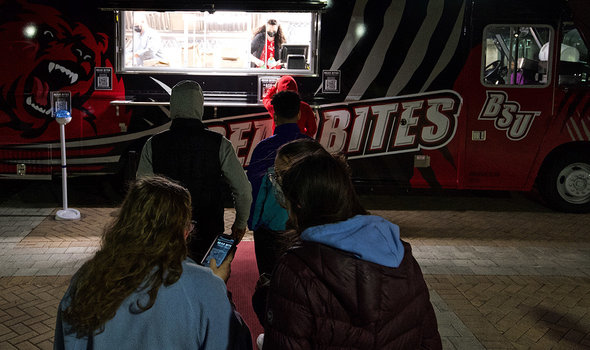 Bear Bites Food Truck
The new Bear Bites food truck is returning for the spring semester!
Look for the truck on campus, Monday-Thursday nights from 6:30-9:30 p.m. Check the BSU mobile app for locations!
Den Delivery
Sodexo teamed up with Starship Technologies  to bring to campus the new delivery robots, that operate almost entirely autonomously.
BSU is the first school in New England to roll out the robots.
The timing couldn't be better to offer this kind of "no-contact" food delivery service, as it provides another layer of safety during the coronavirus pandemic.
Students can download the Starship app, where they will find all the information needed to use the service. After users select their desired food items from the menu, Sodexo then prepares the order and places it into the robot. (There is a small delivery fee for each order.)
Once loaded and securely locked, off it goes! One robot is used per customer. Users then track their meal as it makes its way toward them.
---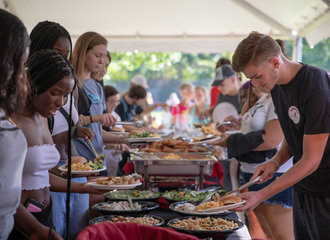 Bridgewater Dining serves a plentiful array of dishes that are sure to please every palate and accommodate every lifestyle.
We make it easy to select delicious, nutritious and satisfying meals and snacks by highlighting well-balanced menu choices and providing nutritional information and tips to help you make choices right for you. Vegetarian and vegan meals are available at each dining location and our Resident Dining Halls host a daily Rustic Roots station with 100% plant-based meals.
Students with food allergies and gluten intolerance will enjoy Simple Servings at the East Campus Commons. This innovative station focuses on dishes with simple and whole ingredients that are free of peanuts, tree nuts, shellfish, wheat, soy, milk products, eggs, and gluten.
We do our part to protect the environment by implementing a host of sustainable practices. Our strategies include composting pre- and post-consumer food waste and providing recyclable single-use containers and recycling bins at our locations. We serve responsibly sourced fish and seafood from East Coast waters and fresh, locally sourced ingredients from New England farms.
Word on the Street - What's Your Favorite Dining Hall?
Our Dining Locations
Crimson Food Court
200 East Campus Drive
Located in Crimson Hall, Crimson Food Court is a food court-style dining hall on East Campus, offering a We Proudly Serve Starbucks, a full-service grill, a global cuisine station, a pizza oven, and made-to-order pasta, salads and sandwiches. Grab and go options are also available at Starbucks. Starbucks is the only operational location within Crimson Food Court during the Spring 2021 semester.
Starbucks
Located in the Crimson Food Court on the East Campus, We Proudly Serve Starbucks features high-quality whole bean coffees, fresh-brewed espresso beverages, a line of premium Teavana teas and a variety of pastries and confections. You will also find fresh grab-and-go sandwiches, salads, parfaits, and more.
Hours: 
Monday-Thursday: 7:30 a.m. – 4 p.m.
Friday: 7:30 a.m. – 2 p.m.
Saturday & Sunday: Closed
Accepts: Dining Dollars, Flex Dollars, cash, credit cards and Apple Pay.
 
East Campus Commons
125 Burrill Avenue
East Campus Commons, aka ECC, is your traditional All-You-Care-to-Eat Community Dining Hall on East Campus. Menu selections include freshly prepared complete meals and many items grilled to order. ECC also has your go to favorites like pizza, made-to-order deli sandwiches, and a robust salad bar. Don't forget a little indulgence at Baker's Table dessert and pastry case featuring baked goods made in-house by our bakers and Gifford's Ice Cream.
ECC is also home to Simple Servings, with hot entrees free of seven of the top eight allergens as dictated by the FDA and a My Zone pantry.
ECC offers Grubhub mobile ordering and a takeout station for meals to go.
Hours: 
Monday-Thursday: 8:30 – 11:00 a.m.; 12 – 3 p.m.; 4 – 8:30 p.m.
Friday: 8:30 a.m. – 7:30 p.m.
Saturday & Sunday: 10 a.m. – 7:30 p.m.
Accepts: Meal Plans, Dining Dollars, Flex Dollars, cash, credit cards and Apple Pay.
Dunkin' East Campus Commons
Hours: Monday-Friday 9 a.m. – 3 p.m.
Flynn Dining Commons
45 School Street
Closed for Spring 2021 semester
Flynn Dining Commons is a traditional All-You-Care-to-Eat dining hall. Menu selections are diverse… feast your eyes on what we have available! We feature a wide variety of fresh flavors designed to satisfy any appetite with menus to rival your favorite restaurants. Stations include a made-to-order deli, international cuisine, grill, pizza and pasta, homestyle entrees, a salad bar, and our premier plant-based Rustic Roots station.
The Bear's Den
19 Park Avenue
The Bear's Den is your Food Court style dining hall on West Campus. Breakfast features made to order favorites at the Farmhouse Grill and Omelet Bar. Lunch boasts fresh salads at Farmer's Field, signature paninis at Handcrafted, and Tex-Mex fare at Quixote's. Bear's Den is also home to the campus' favorite pasta toss station- Semolina's! In the mood for something healthy? Check out Chef's Table Market Bar for our frequently featured Mindful recipes! Or head to Douxberry Smoothies for a fresh and fruity pick-me-up.
Dunkin Bear's Den is closed for Spring 2021 semester.

Hours: 
Monday-Friday: 7:30 – 10 a.m. (Mobile Ordering Only); 11 a.m. – 2 p.m.; 3 – 7 p.m.
Saturday & Sunday: 11 a.m. – 2 p.m.; 3 – 7 p.m.
Accepts: Dining Dollars, Flex Dollars, Meal Swipes, cash, credit cards and Apple Pay.