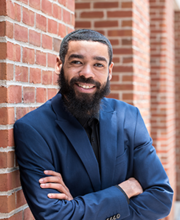 Going back to school is hard, really hard. But my experiences at BSU have been nothing but wonderful.  I am more driven and focused than I have ever been. I have a lot I want to accomplish and it all started with BSU taking a chance on me.
Dontaé Barros, '23 | Major: Accounting
Recipient of The Patricia Quinn Bartlett '67 Scholarship
For many students, receiving a scholarship can be the difference between continuing their education or not. Scholarships provide immediate relief for students, not only financially, but also emotionally. The scholarship validates their efforts and sustains them on their road to success.
Donors to BSU's Sponsor-A-Student fundraising effort play a large part in student successes.
Bill Bristol, '71, supports BSU students through the university's Sponsor-A-Student program. With the rising cost of higher education, "I give to this program," he said," because I think it's a wonderful opportunity to help young students during a time when it's really difficult for them to pay for their college education."