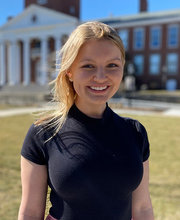 My experience at BSU allowed me to grow, excel, lead, and gain control of my health as well as my studies. I felt alive and appreciated at BSU. I grew as a person while earning As in my classes. Receiving a Sponsor-A-Student Scholarship helped me advance my studies and career here at BSU. Not only did the scholarship remove the financial stress I was experiencing, but it also allowed me to direct my energy into excelling at schoolwork instead of worrying about money.
Haley Castellano, '20 | Major: Health Studies
Recipient of The Gilbert D. Bristol Memorial Scholarship
For many students, receiving a scholarship can be the difference between continuing their education or not. Scholarships provide immediate relief for students, not only financially, but also emotionally. The scholarship validates their efforts and sustains them on their road to success.
Donors to BSU's Sponsor-A-Student fundraising effort play a large part in student successes.
Bill Bristol, '71, supports BSU students through the university's Sponsor-A-Student program. With the rising cost of higher education, "I give to this program," he said," because I think it's a wonderful opportunity to help young students during a time when it's really difficult for them to pay for their college education."