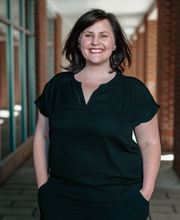 Assistant Professor of Communication Studies
BS, University of Texas at Austin 
MA, MFA, Emerson College
Colleen Kelly Poplin is a nonfiction filmmaker and sound artist dedicated to gender, race, and disability justice. Colleen works primarily as a single artist filmmaker, operating in all production roles including concept development, directing, creative producing, sound design, and cinematography. Her short films have been featured in gallery exhibitions and film festivals nationwide, and her audio projects have aired on various radio stations including WGBH, WBUR, and KUT. She has also produced work for PBS, BBC Radio, CBC Radio, and ESPN.
Colleen has studied sound design, documentary production, and feminist media theory throughout her life. She earned MA and MFA degrees in Media Art from Emerson College and a Bachelor of Science in Radio-Television-Film from the University of Texas at Austin. Her academic pursuits led her to expand beyond production into presenting and publishing on the intersections of social justice and storytelling. She was a featured panelist for the EDIT Media Antiracist Film and Media Pedagogy roundtable, has led workshops for StoryCenter, The Boston Globe, and the Action Coalition for Media Education, and was published in the Journal of Cinema and Media Studies teaching dossier on Antiracist Strategies for Inclusive Film and Media Education.
Colleen is a committed educator who ensures her production curriculum is fully inclusive, regardless of financial resources or social background. Her classes are known for their empowering learning environment and student-centered approach. Above all, she believes that creative students deserve creative teachers. To learn more about Colleen and her creative work, visit colleenkellypoplin.com.
Area of Expertise
Film production, documentary and personal filmmaking, audio production, image and sound as fine art, social justice advocacy, gender studies, media pedagogy