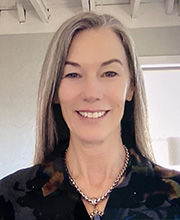 Professor of Counselor Education
BA, University of Oklahoma
MEd, Ohio University
PhD, Ohio University, Counselor Education
Dr. Christy Lyons (Graham) joined the Department of Counselor Education at BSU as a core faculty member in 2004 from Loyola University New Orleans. She served in a leadership role in the initial CACREP accreditation process which led to BSU having the first CACREP-accredited counseling programs in the Commonwealth of Massachusetts. 
Dr. Lyons has served in multiple leadership positions within the department over the years including department chairperson, counseling programs coordinator, and fieldwork director and was the founding chapter faculty advisor for BSU's chapter of Chi Sigma Iota, an international counseling honor society. Dr. Lyons has also served the wider campus community in multiple capacities including serving as the coordinator for the Service Learning and Civic Engagement Initiative and coordinating BSU's first campus-wide "Teach-In" focusing on subject matter related to the Black Lives Matter movement. She counts a Study Abroad course, "School Counseling in Jordan", that she co-created and led, among her most memorable and meaningful experiences (among many) that she has had the privilege of being involved with at BSU.
Dr. Lyons is a Licensed Mental Health Counselor (LMHC) and has clinical counseling and clinical supervision experience across many different settings, including schools, and has worked with a variety of client populations. She teaches both general counseling courses and core mental health courses, and regularly supervises mental health practicum and internship.
Dr. Lyons is a member of the American Counseling Association, the Association for Counselor Education and Supervision, the Association for Specialists in Group Work, and the International Association of Marriage and Family Therapy. She is an active scholar and regular presenter at international, national, and regional professional association conferences. Her most recent scholarly interests include divorce management (for divorcing couples) and maintaining trauma-sensitive classrooms (for teachers), both of which focus on the importance of learning to manage emotions and maintain healthy environments for all involved.