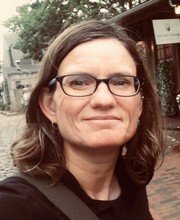 Professor of English; Acting Chairperson of Theatre
Tillinghast Hall, Room 214
BA, Indiana University
MA, University of Iowa
PhD, University of Iowa, English (American Literature and Drama)
Research and Teaching Interests:
Modern and Contemporary Drama
American Literature
Performance Studies
American Studies
Dr. Bean teaches both graduate and undergraduate courses in modern and contemporary drama and performance, American literature, and gender and sexuality studies. Her course titles include Drama and Social Justice, The Cultural Politics of 20th-Century American Performance, 19th-Century Melodrama and Theater Culture, Encountering Performances: Critiquing the Rhetoric of Cultural Encounter through Contemporary Theater, Survey of American Literature, Seminar on Amiri Baraka, Adrienne Kennedy, and Suzan-Lori Parks, The Suburb in American Literature and Film, Contemporary Women's and Gender Studies, Bestsellers of the 1950s, and Gender and Sexuality in 20th-Century Literature.
Recent Publications:
Dr. Bean's books include Acts of Poetry: American Poets' Theater and the Politics of Performance (Michigan, 2019) and Poetry after Cultural Studies (Iowa, 2011). Her essays on the intersection of poetry and theater and have appeared in Modern Drama, Postmodern Culture, Text and Performance Quarterly, and the book collection, Beat Drama (Methuen, 2016).
Area of Expertise
Twentieth-Century Drama, Theater, and Performance
Twentieth-Century American Literature and Culture Performance Studies