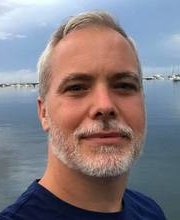 Professor of English and Coordinator of Film Studies
BA, University of California—Riverside
MA, PhD, Tufts University
Selected Publications:
"Memorial Acts: Remembering Mart Crowley and The Boys in the Band." Ryan Murphy's Queer America, edited by Brenda R. Weber and David Greven, Routledge, 2022, pp. 196-210.
"Taking Pride in The Boys in the Band." HuffPost, June 23, 2018.
https://www.huffpost.com/entry/opinion-bell-boys-in-the-band_n_5b29522ee4b0a4dc99219f2d
The Boys in the Band: Flashpoints of Cinema, History, and Queer Politics. Editor. Wayne State University Press, 2016. http://www.wsupress.wayne.edu/books/detail/boys-band
"Inhuman Temporality: Koyaanisqatsi." The Bridgewater Review, vol. 32, no. 1, 2013, pp. 19-22.
"When Harry Met Harry." Shakesqueer: A Queer Companion to the Complete Works of Shakespeare, edited by Madhavi Menon, Duke University Press, 2011, pp. 106-113.
"Black Ground, Gay Figure: Working through Another Country, Black Power, and Gay Liberation." American Literature, vol. 79, no. 3, 2007, pp. 577-603..
"'Your worst fears made flesh': The Manchurian Candidate's Paranoid Delusion and Gay Liberation." GLQ: A Journal of Lesbian and Gay Studies, vol. 12, no. 1, 2006, pp. 85-116.
Awards:
Presidential Award for Distinguished Teaching, Bridgewater State University, 2016
Area of Expertise
Queer Studies
American Literature
Film Studies
Critical Theory