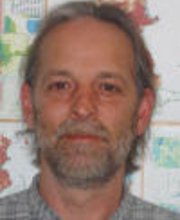 Associate Professor of Geography
Science and Mathematics Center, Room 211

BA, University of North Carolina at Wilmington
MA, PhD, University of Florida
Research interests:
The problem of siting waste management facilities in the US (for low-level radioactive waste) and in Ireland (regional management of municipal sanitary wastes).
Urban planning, with primary interests in affordable housing concerns, undesirable facilities location and the concepts of the "new urbanism" – reconsidering the exclusive-use zoning practices of the past.

Dr. Amey wants his students to find their own ideas to find the balance that blends the peacefulness of a small town life (the idealized "New England town" ) and the buzz of an urban pace (the social and economic diversity of city neighborhoods) into healthy social, economic, built and natural environments by integrating their academic experience with working knowledge of planning issues faced by the Southeastern Regional Planning and Economic Development District, Old Colony Planning Council and local planning boards in Bridgewater and Brockton.