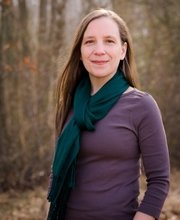 Adrian Tinsley Center, Room 232
Jen Schoonover has performed Highland dance at Carnegie Hall, the Kennedy Center and (on an ice skating rink!) on Good Morning America. Her interest in the history of Scottish dance has led her to seek out dances from non-competitive traditions, and she is collaborating on research in highland dance history with Colin Robertson and Mats Melin. Jen is an Associate Member of the British Association of Teachers of Dancing and certificated teacher with the Royal Scottish Country Dance Society, and teaches Cape Breton step and set dance at the Canadian American Club in Watertown, Massachusetts.
Also a modern dancer and choreographer, Jen has created work for Theatre Catalyst and the People's Light and Theatre in the Philadelphia area, Theater Outlet in Allentown, Pennsylvania, the Irondale Ensemble Project and Voice and Vision Theater in New York City, and for Back Porch Dance Company and the Willing Suspension Players in Boston. Groups Jen has danced with include Back Porch Dance Company, Allen|Body Group, Peanut Butter and Jelly Dance Company, Highland Dance Boston, Round the Corner Movers, and Kieran Jordan Dancers. She has served as artistic director of Cape Dance Theater on Cape Cod, and, in collaboration with Kieran Jordan, created TurnStyles, a dance group fusing contemporary and traditional dance aesthetics.