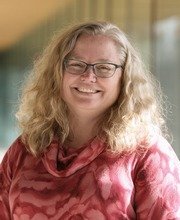 Science and Mathematics Center, Room 212
BA, Wellesley College Astronomy
MS, PhD, University of New Hampshire Physics
Dr. Martina Arndt has been at BSU since 2000 and is a solar physicist who has traveled the world observing solar eclipses with her main collaborator, Dr. Shadia Habbal (see link below). She earned her BA in astronomy from Wellesley College and her MS and PhD in physics at the University of New Hampshire.

Dr. Arndt teaches both introductory and upper level physics and astronomy classes as well as interdepartmental courses like the Tools of Sports Science with colleagues in the Movement Arts, Health Promotion and Leisure Studies department. She has earned two presidential awards for her teaching. She is also a strong supporter and advocate for informal science education; she helped found an astronomy club at her daughter's elementary school and she has been instrumental in expanding the BSU observing facilities and public outreach.

Dr. Arndt has been Principal Investigator on multiple grants funded by the National Science Foundation (NSF). These funds have been used to cover travel to multiple eclipse sites (including Libya, China, Tatakoto, the Marshall Islands, Antigua, and South Africa), graduate and undergraduate course development, and undergraduate research. Her students have engaged in research projects ranging from solar physics (funded by NSF) to variable stars (funded by the Adrian Tinsley Program) to exoplanets (funded by NASA Space Grants).

In addition to her teaching and research responsibilities, Dr. Arndt served as department chair for six years and faculty associate in the dean's office for the Bartlett College of Science and Mathematics for two years. She is the BSU representative for the Massachusetts NASA Space Grant (see link below). In fall 2013, she began her three-year term as co-coordinator for the Center for the Advancement of Research and Scholarship (CARS).