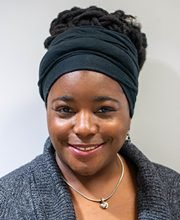 Associate Professor of Social Work
Burrill Office Complex, Room 102N
BA, Wellesley College
MSW and PhD, Boston College School of Social Work
Dr. Lacet is Haitian-American, the 10th of 12 children and a first-generation college graduate. She grew up in Boston's Mattapan neighborhood and graduated from Boston Public Schools. She is bilingual in English and Haitian Creole.
Her practice and consulting experience include: at-risk youth, families affected by family violence and the mental health needs of the Haitian community. She was a founding member and past president of the Haitian Mental Health Network, a collaborative of mental health providers working locally and in Haiti to build mental health capacity, raising awareness and decreasing stigma about mental illness in the Haitian community. She actively mentors youth and early-career social workers.
She enjoys teaching required research, micro and macro practice courses, and elective courses on family violence and social work practice on immigrant and bilingual populations. She serves as a faculty associate in the Office of Teaching and Learning, and enjoys giving conference presentations about strength-based teaching and empowering pedagogies.
She earned her bachelor's degree from Wellesley College, and her master's (MSW) and doctorate (PhD) from Boston College School of Social Work. Her dissertation research focused on Haitian women survivors of the 2010 Haiti Earthquake. Her other scholarly interests include building community collaborations, cultural humility, allyship and strengths-based teaching.
Area of Expertise
Family Violence, Haitian Mental Health, Allyship