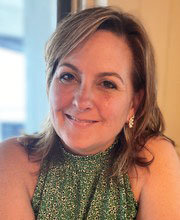 BA, UMASS Dartmouth
MSW, Bridgewater State University 
Kelley has a passion for helping others and her community. Her high school psychology class and courses in women's studies as well as gender and racial inequities at UMASS Dartmouth intrigued her and laid the foundation for her life's purpose. Kelley has channeled her trauma experiences to be an agent of change by learning, healing, and growing herself to teach and support others with a fire that speaks, "it can be different". Her connection to humanity's pain has ignited her desire to address, give voice towards, and teach about injustice, inequity, and racism.  Social Work was the obvious choice when she entered graduate school at Bridgewater State University in 2005 at the age of 33 with her sons being 7 and 1-1/2 years old.  
Kelley has worked in the New Bedford community for 29 years with at-risk youth, families experiencing homelessness, and those with substance use disorders. She has overseen city grants geared towards policy and macro level work.  Kelley's private practice supports others' healing and recovery with a mind-body holistic lens.  
Kelley lives with her husband, two sons, and dog.  She loves her family and friends, exercises, practices yoga, meditation, mindfulness, and spent some years coaching Girls Basketball and Field Hockey.  Kelley is a published author and hopes that by sharing her story she can help others with theirs.
Area of Expertise
Mental Health and Wellness; Trauma; Mind-Body-Spirit Practices; Practitioner Self-Care; Policy & Community Work