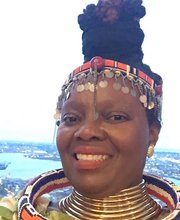 Instructor of Social Work
Burrill Office Complex, Room 100C
BSW, Salem State University
MSW, Boston University 
MDiv, Boston University
My name Lehlohonolo means lucky or blessed in SeSotho. I was born in Soweto, South Africa to parents who have been Theologians for over 60 years. In 1990, I graduated from BUSSW with an MSW and a concentration in Community Organizing, Management and Planning. I received an MDIV from BUSTH 2004, with a concentration in Pastoral Care and Counseling. 

In the Spring 2006, I coordinated the "Summer Academy for UnDoing Racism and Social Justice" for Social Work educators teaching racism classes. I have experience teaching Social Work Groups, Dynamics of Racism and Oppression, Generalist Social Work Practice II & Human Behavior and the Social Environment II.
In 2000 I completed a Senior Executive Programme for Southern Africa, offered by Harvard and WITS University Business Schools. In 2008 I completed an academic year of chaplaincy at Brigham & Women's Hospital. I am passionate about teaching and learning with an emphasis in creating a new understanding of diversity as a strength through a cross cultural and a global lens. I have extensive experience in diversity management in the USA and in South Africa. I also acquired management skills as a human resources director, as a pastor and spiritual leader for 12 years.
I have provided leadership, strategic planning, team building, management and counseling in cross-cultural settings with people from a range of ethnic / cultural backgrounds and social strata in the USA and South Africa. 
I am a Social Worker and a Theologian who has experienced making a difference in people's lives, whom I minister to and counsel. I have dedicated my life to persuing social justice and human rights for women and their children as well as people living with infectious diseases locally and globally. I have a passion for advocating against all forms of oppression. Working with people who are in need is my calling and vocation, that I embrace. I believe in treating all people with love, dignity and justice. In our diversity, we celebrate each other and choose to be inclusive.