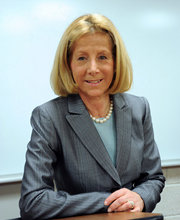 Professor of Secondary Education and Educational Leadership
Adrian Tinsley Center Room 231
BA, Hood College
MA, Columbia University
EdM, Harvard University
EdD, University of Massachusetts
Having spent nearly twenty years in teaching and administrative positions in both public and independent schools, Phyllis Gimbel has published and presented widely on a variety of topics related to leadership, mentoring, teaching and learning. Her second book, Healthy Schools: The Hidden Component of Teaching and Learning, was published in 2013 and her recent publications include an article on communication in school leadership, published in the 100th anniversary issue of the journal, Principal Leadership, a 2018 article published in the NASSP Bulletin, entitled, Perceptions of a Principal Mentoring Initiative and a third book, published in 2021, entitled, Leadership Through Mentoring, The Key to Improving the Confidence and Skill of Principals.
Dr. Gimbel received a Master's in Teaching Romance Languages from Teachers College, Columbia University, a Master's in Education from Harvard University, and a doctoral degree in Educational Leadership.
A recipient of the V. James DiNardo Alumni Award for Excellence in Teaching, Dr. Gimbel was awarded the first faculty fellowship in the Office of Teaching and Learning. She has served as Chair of the Board of the World of Wellesley, a non-profit devoted to diversity, a member of the Wellesley Public Schools Superintendent's Strategic Advisory Committee, and a member of the Board of Directors of Adolescent Wellness, Inc.
Area of Expertise
Mentoring New School Leaders
Principal-Teacher Trust
Building a Positive School Culture