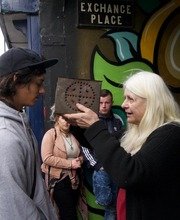 Rondileau Student Union, Room 018
BS, Frostburg State University
MA, Lesley University
Mari Novotny-Jones has been a member of the Mobius Artists Group in Boston since 1980. Her original performance work includes both solo and collaborative pieces. Mari's background involves international, national and local tours, constructing interactive performances in China, Thailand, Ireland, France, Russia, Transylvania, Macedonia, Sweden, Continental United States, Canada and more.
Some of her local works include a performance in which Mari pulled 50 pounds of coal through the streets of Redhook, Brooklyn. At Mobius, she created a solo piece concerning the refugee crisis called, Sappho's Children. Mari collaborated with Margaret Bellefiore and Anna Wexler, in constructing a piece utilizing abandoned windows that were originally designated for Milk and Licenses at City Hall, Boston.
Currently, Novotny-Jones teaches in the Theatre Department at Bridgewater State University. Mari taught at The School for the Museum of Fine Arts, Boston for 18 years, where she developed her teaching perspective and pedagogy. Mari has also been involved in the Boston activist community for over 20 years, where she attributes life-learning lessons in diversity, respect and humanity. 
She is a recipient of a 2000 Tanne Foundation Artist Award for excellence in the arts. In 2001, she was awarded an Emerging Artist/Humanitarian Fellowship from the Boston Cultural Council for her performance and teaching work. The Museum School Faculty Enrichment award for her work in Macedonia in 2003. Mari also holds a MA in independent studies from Lesley University, Cambridge Mass.  
Her motto, "Teaching with Tenderness."
Area of Expertise
Creative Writing, Performance Art, Conceptual Art, Teaching creatively in Boston Public Schools (15 years), Art theory and Practice, Curriculum Development using theatre as a strategy, Education, Theatre, Creating public performances.