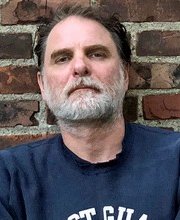 Rondileau Student Union, Room 018
Thomas Kee is a playwright/actor who recently appeared in the Award-winning film "Blow The Man Down" (Amazon Prime). He can also be seen in "City on the Hill" (Showtime), "Chappaquiddick" (Netflix), "Castle Rock" (Hulu) and "Across the Pacific" (PBS). He was an original cast member of the American Repertory Theatre production of "Sleep No More." Other stage credits include roles at Shakespeare & Co, The Vineyard Playhouse, Wellfleet Harbor Actor's Theatre, and Gloucester Stage Co.
Tom's play "Mary's Little Monster" premiered at The Ophelia Theatre in NYC in April 2016.
He wrote and devised the immersive production entitled "The Summer I Disappeared" based on events in the lives of the Freedom Riders which previewed at BSU in September 2016 and opened in NYC the following October.
Tom's play "Treed" was published in the Spring 2016 issue of the Bridgewater Review. His short play (Richard Harvey Square) premiered in NYC in early 2015. In 2012 his play "Nothing Personal" was presented at the The American Globe Theatre's "15 Minute Play Festival" and was published in Contemporary Playwright in 2013.
Tom holds an MFA in Acting from Brandies University.
Area of Expertise
Acting, Playwriting