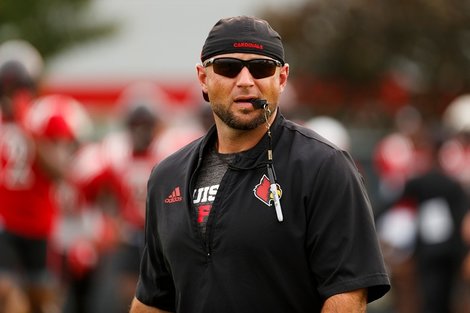 Find and follow your passion. Be proactive in your pursuit, don't sit back and expect things to happen, go earn them and build a career.
Story Series
News Feature
Once there was a Bear named "Goose" who roamed the Bridgewater State University campus and, like a circus act, sometimes did so on a child-sized tricycle.
"He showed up to practice in good ol' Kelly Gym weight room, riding an extremely small tricycle, ringing the bell as he peddled right into the building," laughed Dr. Ellyn Robinson. "Mind you, Mike is a big guy."
The big guy who was riding the trike is former BSU football player and Division III All-American, Mike Sirignano.
After leaving the den in 2007 with a degree in physical education, he took flight and landed at University of Louisville where he currently serves as director of football strength and conditioning.
Mike is one of many shining examples of the quality BSU Strength and Conditioning alumni that are successfully employed in high-end careers, Robinson said.
Now a director for the UL Cardinals, he oversees efforts to create a winning culture for the team.
"That entails many things, from attitude and effort to accountability, to training their bodies and minds to their daily schedules, and discipline," Sirignano said. "To sum it up, I direct a message, attitude, and effort for the football organization on a daily basis."
His flight path from BSU to Louisville included working with athletes at Bryant College, Northeastern, Rhode Island, Elon, South Carolina and Appalachian State.
But it all started at Bridgewater when, as an undergraduate, he participated in an internship at the College of Holy Cross under strength and conditioning coach, Jeff Oliver.
The internship provided Sirignano with insight as to how the industry works.
"It also helped me apply the sciences and techniques I learned in the classroom at BSU," he said.
One of those classrooms was with Professor Robinson who was also integral to opening Sirignanon's eyes to the career opportunities in strength and conditioning.
"She helped me pursue a career and guided my passion," he said.
Robinson is not at all surprised that her former student is finding success.
"I always knew he would be successful from his work ethic, talent and drive," Robinson said. "Mike was a good student, a fabulous athlete, and a genuine good person."
Those characteristics have served him well throughout his ongoing career, one he thoroughly enjoys.
"The best part of my job is being able to mentor young athletes daily, knowing that I will leave a lasting impression on them for the rest of their lives," Sirignano said.
For current BSU students trying to figure out their own path to success, he offers this piece of advice.
"Find and follow your passion. Be proactive in your pursuit, don't sit back and expect things to happen, go earn them and build a career. Find a mentor and become a sponge," he said.
Do you have a BSU story you'd like to share? Email stories@bridgew.edu