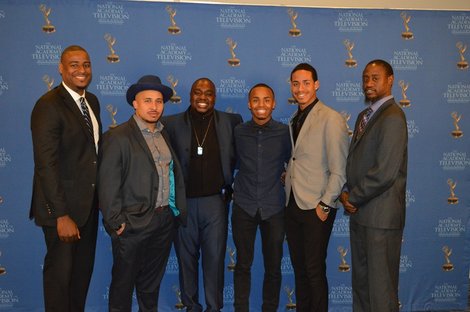 Story Series
News Feature
Bridgewater State University alumnus Noube Rateau can now add another title to his growing resume – Emmy winner.
The filmmaker, and 2010 graduate, recently took home the coveted statue from the 42nd annual Emmy Awards, sponsored by the Boston/New England Chapter of the National Academy of Television Arts & Sciences.
His 2018 film, "Protect, Serve and Care," topped the most outstanding documentary category. The film was co-directed by William Medero.
According to Rateau, the documentary is meant to draw attention to the relationship between police and minorities.
"Protect, Serve and Care is about giving a voice to the voiceless and educating inner city youth about policing," he said.
The filmmaker continues to build a reputation for himself by creating documentaries through his Noube Productions company that shed light on some of today's more controversial issues.
In 2016, another of his projects, Out of Bounds, earned a New England Emmy nomination for best documentary. That film tells the story of inner-city athletes and the struggles they face.
Rateau, a native of Brockton, has been teaching at Lynn Vocational Technical Institute for the past four years. Two of his students, Edward Cuevas and Amari Gaston, who recently graduated from the school's radio and broadcasting program, attended the June 15 Emmy ceremony with Noube.
Gaston is following in his teacher's footsteps and will attend BSU this fall.
"Seeing Mr. Rateau win this award was amazing," he said. "It inspired me to continue working toward my goal to be a future news anchor. I know how hard he worked for this and I plan to work equally as hard to make my dreams come true just like Mr. Rateau."
Do you have a BSU story you'd like to share? Email stories@bridgew.edu