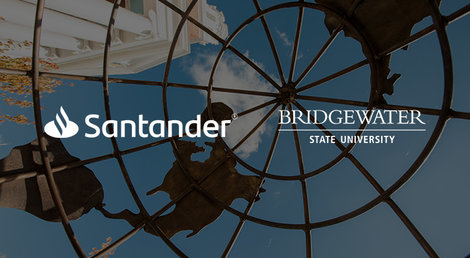 It helped make the whole process that much more feasible because studying abroad is such a big financial burden.
Story Series
News Feature
For Shane DeSousa, '21, New Zealand's towering mountains and death-defying recreational opportunities leave him awestruck. But, the Bridgewater State University psychology and health science major almost never experienced those wonders or the thrill of trying one of the tallest bungee jumps in the world.
Shane journeyed to New Zealand last spring as part of a semester studying at Bond University in Australia with support from a partnership between BSU and Santander Bank, N.A.
"It was amazing," he said of receiving a scholarship funded by the bank. "Choosing to study abroad was expensive. The scholarship helped me with flights and going to New Zealand, which was something I didn't think I could do."
International education will be within reach of more students thanks to a $125,000 grant from Santander Universities. The grant continues funding for the Santander Study Abroad Scholarship and BSU's Bridge Partnership. The initiatives will benefit more than 150 students annually.
"Santander recognizes the immense value of our partnership with Bridgewater State University through the Bridge Partnership Program," said Seth Goodall, the bank's executive director of corporate social responsibility. "We're also grateful to work together to provide opportunities for students in southern Massachusetts to experience college immersion or broaden their world view through study abroad programs." 
The Bridge Partnership includes a summer program for middle schoolers from Brockton and New Bedford. Participants live in a residence hall; experience college life; take courses with BSU faculty and education majors and middle school teachers; and tour educational, cultural and historic sites.
Santander Study Abroad Scholars receive up to $2,500. Scholars are chosen semi-annually based on financial need.
Scholar Alyssa Raymond, '20, an English major, studied at Aristotle University and the University of Macedonia in Greece. She backpacked through nearby countries and formed international friendships. She enjoyed helping her new pals improve their English and is pursuing a minor in teaching English to speakers of other languages because of her study abroad experience.
Alyssa, who works multiple jobs, praised the scholarship for easing the financial strain of traveling.
Alex Ortiz, '20, a Spanish and secondary education major, took classes in Spanish at Universidad San Francisco de Quito in Ecuador and visited family members there. He hopes to take his future students on trips.
"It helped make the whole process that much more feasible because studying abroad is such a big financial burden," he said.
Management major Jesse MacDougall, '20, studied at the University of Limerick in Ireland. He also traveled to Northern Ireland, where he saw signs of the struggles between Protestants and Catholics.
The Santander scholarship, coupled with other financial aid, meant Jesse could focus on the once-in-a-lifetime experiences.
"That was definitely a determining factor," he said. Studying abroad could have been "a dream deferred."
Do you have a BSU story you'd like to share? Email stories@bridgew.edu.