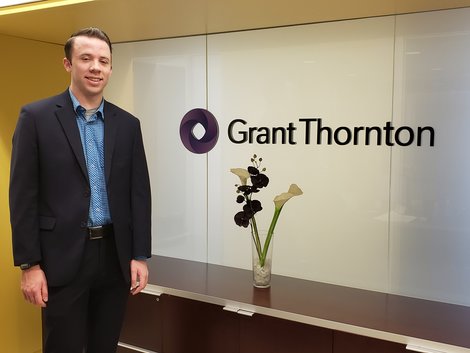 My internship taught me to be innovative and to always be looking out for myself. Nothing is ever handed to you unless your hand is up.
Story Series
News Feature
After graduating from Bridgewater State University, many alumni have jobs lined up due in part to their participation in various internship programs.
One such program is the Washington Center for Internship and Academic Seminars, an independent non-profit organization that provides academic and professional opportunities for college students and recent graduates from all over the world.
Heidi Belanger, '15, took part in the program as an undergraduate and speaks highly of the experience.
"It's a great program that not a lot of students know about. It's a great alternative to studying abroad," she said.
Through the TWC internship, students travel and live in Washington, D.C., to work in a field that interests them within government, nonprofit and private sectors.
Destiny Ihenacho, '16, interned with Jubilee USA, a nonprofit dedicated to global debt relief, where he interacted with high-profile individuals like Speaker of the House Nancy Pelosi.
"It was eye opening," he said. "My job as an operational intern included recruiting interns. I also represented Jubilee USA at conferences, the White House, World Bank, International Monetary Fund and Capitol Hill."
Stephanie Janeczek, '18, lived in D.C. in the summer of 2017, while she interned as a graphic designer with STEMconnector.
STEMconnector's mission is to strengthen the STEM pipeline from elementary school to the workforce and ensure what students learn in school is still relevant when they seek employment.
"This internship definitely helped put my career into perspective. I learned a lot about the work environment I was in. It was extremely fast paced," Janeczek said. "It made me realize I wanted to be in a more relaxed work atmosphere."
Internships in general help build a network, which is paramount in exploring career opportunities.
"Quite frankly, everything after graduation is networking," Ihenacho said. "My internship taught me to be innovative and to always be looking out for myself. Nothing is ever handed to you unless your hand is up."
Current BSU student and political science major Chris Connelly participated in the D.C. internship program this past spring at Grant Thornton, an accounting and advisory organization, and offers up these three tips to future interns.
Don't be afraid to ask questions.
Try to problem solve on your own before going to other team members.
Be open minded. You're going to meet a lot of people with varying opinions. I learned to put my own feelings aside for the betterment of the company. 
For more information about internship program at The Washington Center contact Internship Program Director Diane Bell in the Rondileau Campus Center, room 204, or by calling 508-531-2632.
Do you have a BSU story you'd like to share? Email stories@bridgew.edu