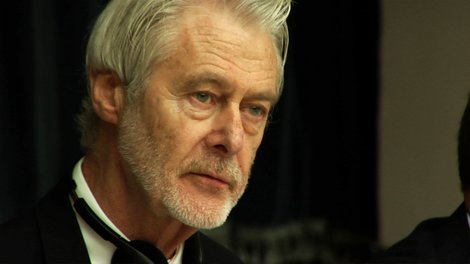 Story Series
News Feature
The highly regarded 2016 documentary, The Peacemaker, will be screened on campus Wednesday, as part of BSU's Irish Cultural Heritage Day. A Q & A session featuring both the subject of the film, Padraig O'Malley, and director James Demo, will follow. 
Also on hand will be John Mulrooney, associate professor of English, who is one of the film's producers. 
The documentary concerns Mr. O'Malley, an international negotiator who helps make peace for others but struggles to find it for himself. Part-owner of the Cambridge bar, the Plough & Stars, Mr. O'Malley is a recovering alcoholic, and the film focuses both on his personal life and his peacemaking efforts around the globe.
Wednesday's Irish Cultural Heritage Celebration begins with a keynote address by Jason McCool titled, "Sing a Real Irish Song: Traversing the Paths of Irish Singing, Then and Now," which will be held at 3:30 p.m. in the council chambers (RCC 201).  The Peacemaker will follow at 6:30 p.m. in the Maxwell Library lecture hall (room 013).
Shot over six years in some of the most dangerous places on earth, the film has been featured at festivals, and recently enjoyed a sold-out screening at Plimoth Cinema.
The Dublin-born O'Malley is famous for bringing together once-entrenched warring factions. While recovering from alcoholism, he found a model and approach he has successfully used in conflict resolution. He has been involved in the negotiations connected to some of the highest-profile conflicts around the world.
Professor Mulrooney said it is only fitting the The Peacemaker is coming to BSU.
"It's a homecoming," he said. "This film wouldn't have happened without BSU. Not just in terms of my own involvement, but Bridgewater has been essential in helping arrange some of the travel, and some students worked on this project in various capacities."
It's been more than a year since the documentary was released, and times are different, Professor Mulrooney added.
"It's remarkable how the conversation around the film has changed," he said. "It played in Sheffield (England) just before Brexit. Then after, in Belfast, Brexit had completely changed how people were looking at division there."
The film's release was also timely regarding the peace agreement in Colombia. And then there's the United States.
"You can feel it in the Q and A sessions, it's almost always the first or second question," Professor Mulrooney said about the 2016 election and its outcome. "The themes that Padraig has worked on all his life were immediately brought into the context of everyday American life." (Story by John Winters, G '11, University News & Media)