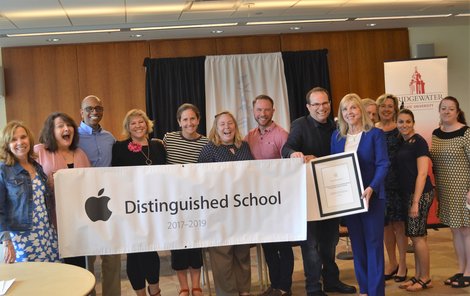 Story Series
News Feature
Apple representatives were on campus recently to present the College of Education and Allied Studies with its second Distinguished School Award. 
"We are totally amazed at all the things you are doing," said Beth Marshdoyle, an Apple account executive. 
The award is given to schools using Apple technology in innovative ways. 
"We are looking for schools that develop real innovative muscles," said Apple's Ian Camera, who was also on hand. He added that Bridgewater State is one of only 20 higher education institutions to earn the award.
Also during the meeting, a $2,000 iPad Award Grant was up for grabs. A vote took place after six faculty members pitched their ideas. 
Dr. Emily Spitzman, assistant professor for special education, took home the top prize with her Green Screen Video Project. Her classes will use Green Screen technology for "I am" activities where BSU students have to write and create presentations about their field-teaching experiences. 
"By adding Green Screen into their projects, they will be able to deepen the experience concerning the ways in which they share information about themselves," Dr. Spitzman said.  
The remaining presenters all received $100 to put toward their concepts. 
Other presenters and their project ideas were: Dr. Jeanne Carey Ingle, (iPad Use in the Early Childhood and Elementary Classroom); Dr.Kevin T. McGowan (The Family-School Partnership: Diverse Families in Early Education and Care); Dr. April Megginson (Choose Your Own Adventure Game); Dr. Heather Pacheco-Guffrey (I Teach with Technology); and Dr. Adam Ulenski (Reading Instruction in the 21stCentury). (Story by Heather Harris Michonski, University News)