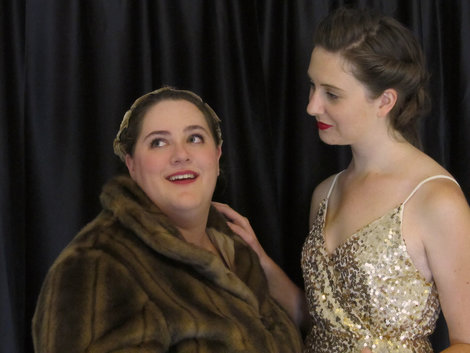 Story Series
News Feature
Audiences can get a taste of a bygone era in American entertainment when the BSU Theater Department presents Gypsy at the Rondileau Campus Center.
Considered by many to be the greatest musical in American theater history, Gypsy is set across America in the 1920's, when vaudeville was dying and burlesque was born. The landmark 1959 show brings to life the world of two-bit show business through the story of an ambitious stage mother who fights for her daughter's success while secretly yearning for her own.
Written by Arthur Laurents, Gypsy features a celebrated score by Jule Styne and Stephen Sondheim, including such hits as "Everything's Coming Up Roses" and "Together, Wherever We Go."
Dr. Colleen Rua, an assistant professor of theater at the university, is directing the production, working with a cast of about 20 BSU students, along with five students from area middle and elementary schools. 
"I thought this was a good time for us to explore a Golden Age musical and this is a wonderful example of one where the story, and music, and dance all come together to tell the tale," said Dr. Rua, who previously directed the Theater Department's production of Assassins, as well as an  immersive production of An Awful Big Adventure, Conference of the Birds, and Pilgrims of the Night.
Also appealing about Gypsy, Dr. Rua said, were the strong roles for women –  unusual in musicals of that time – and the multiple points of transition in the story, including from vaudeville to burlesque, between different geographical locales, and in character relationships.
Dr. Rua said those transitions should make the musical relevant today's undergraduates, who experience their own transitions from high school to college.
Working on the production has been "fantastic" experience, Dr. Rua said, praising the talents and enthusiasm of the student actors. "They are hard-working, they are dedicated, and they have wonderful insights in rehearsal. They are just a dream to work with."
BSU cast members are Nolan Gibbons (Marion), Alyssa Germaine, Kait Hull (Attleboro); Kelly McGrath (Barnstable), Jesse Romano (Brewster), Julia O'Malley, Hannah Buhmann, Lauren Coleman (Bridgewater), Abby Dwyer (Cumberland, RI), Ethan Child, Mark Wilburn (East Bridgewater), Emily Hershlag (Easton), Michael Eckenreiter (Fairhaven), Ladymir Ortiz-Gonzales (Fall River), Angela Harrington (Kingston), Libby Lit (Milford), Olivia Marques (New Bedford), Kaycee Wilson (Newtonville), Patrick Chisholm (Raynham), Tiago Rodriquez, Karly Foster (Taunton) and Eric Lander (Whitman), David Madden (Carver), Brianna Prevatt (Weymouth), and Colleen Sweeney (Lakeville).
Performances for Gypsy will be held in the Rondileau Campus Center at 19 Park Ave in Bridgewater this Friday and Saturday at 8 p.m., this Sunday at 2 p.m., and Oct. 26-28 at 8 p.m. Tickets are $15 for the general public, and $10 for seniors, members of the military, and students. when purchasing online at www.BSUtix.com.
At the door admission is $19 for the general public, and $14 for seniors, military and BSU students with a valid ID. Contact the BSU Theater box office at BoxOffice@bridgew.edu or call 508- 531-1321 for more information. (Story by John Laidler for University News & Media)