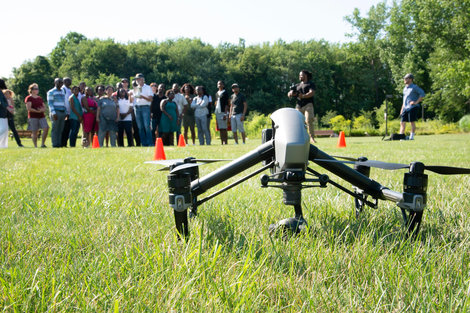 Story Series
News Feature
It sounded as if a swarm of bees had descended on University Park last week, but the buzzing noise was created by the circling drones being flown by GeoGraphics Lab Co-directors Dr. Lawrence Harman and Dr. Uma Shama. The pair were putting on an unmanned aerial vehicle (UAV) demonstration for the visiting Mandela Washington fellows. 
During the presentation, Dr. Harman shared the different ways drones are being used at BSU's LivingLab.
"All they really are are flying cameras," he said. 
The LivingLab is a concept created by Mr. Harman and Dr. Shama. The idea is to use the BSU campus to learn more about the potential uses of drone technology first hand. The cameras on the small drones help monitor BSU transportation infrastructures and operations, explore MBTA commuter rail stations and transit parking on campus, and aid police in traffic incident management and investigations. 
"They are helping give us a more accurate picture, for example, in managing the parking lots," Mr. Harman said. 
It can take over an hour for a monitor to walk the lots and make sure cars are parked appropriately. Using a drone, the same task can be performed within five minutes, he said. 
Local and university police are also using drones during tactical operations and exploring the possibility to include them during active shooter situations. 
Mandela fellow Racheal Mpiriirwe Kaigo of Uganda appreciates the drones' capabilities but questioned what could happen if put into the wrong hands. 
"With time I can see these will become a security issue…What measures are in place to prevent this?" she asked. 
Dr. Shama said researchers and manufacturers are continually seeking ways to address safety concerns.
"Security is a big issue," she said. "They are working on establishing technology that will identify whether or not a drone is a foe, and, if so, then be able to immediately shut it down. There is a lot of research going on to find ways to take control if someone is misusing it."
While drones have the potential be used in dangerous or destructive ways, Dr. Harman believes the benefits far outweigh the bad. 
"They can do much more good than evil," he said. 
This is the third year Bridgewater was selected by the U.S. Department of the State to host a cohort from the Mandela Washington Fellowship for Young African Leaders. The 25 fellows arrived last month from Africa to participate in a six-week academic and leadership institute. Bridgewater State is one of only 27 institutions selected to serve as host for this year's program. (Story by Heather Harris Michonski, University News)