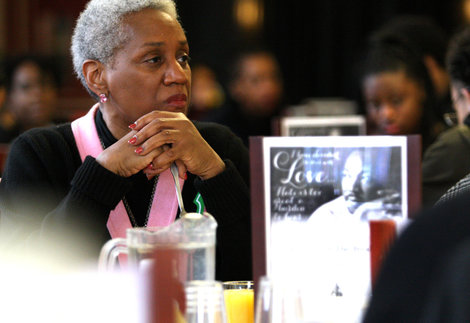 Story Series
News Feature
The campus community came together to celebrate the legacy of Dr. Martin Luther King Jr. at the annual community breakfast and day of service, which were held in honor of the late civil rights leader.
"We gathered to celebrate the impactful legacy of Dr. Martin Luther King," said Dr. Luis F. Paredes, director in the Office of Institutional Diversity. "We broke bread in community to be reminded of Dr. King's message of resilience, persistence, and love. Because we are living in turbulent times, we need to be stronger and more unified than ever, and through that, Dr. King's legacy will live on."
See more photos on BSU's official Facebook page.
More than 100 people attended the breakfast and day of service event that followed, many of them young people. Dr. Paredes served as emcee for the breakfast, which also featured remarks from President Frederick W. Clark Jr. Dr. Kelly Brotzman, executive director of the Martin Richard Institute for Social Justice, also spoke.
The service component of the day took place in the Rondileau Campus Center after the breakfast. More than 40 members of Jumpstart facilitated, as volunteers made 200 bagged lunches for Father Bill's & MainSpring House, created postcards for Meals on Wheels recipients in Brockton and Bridgewater, made activity books and bookmarks for Brockton preschoolers, and made 55 "Welcome Home" signs for those in Old Colony YMCA transitional housing.
A self-portrait booth raised $177 for international programs that encourage inclusivity in youth programing.