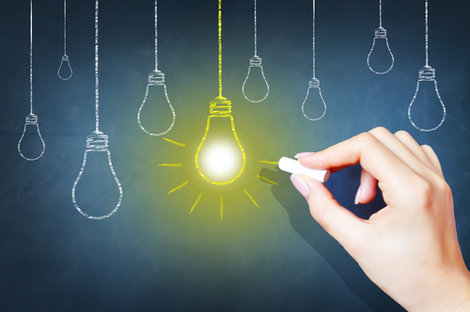 Story Series
News Feature
The Ricciardi College of Business hosted the campus' first-ever Shark Tank event, where just like the popular television show, students pitched business ideas to a panel of judges. For BSU's version, the judges were comprised of alumni and Foundation Board members. 
Hannah Powers, '18, and Matthew R. Bourgeois, '19, took home the top prizes for their ideas. Hannah will use the $1,500 prize money to help start and promote her small business, Seize the Clay; while Matthew will use his $1,500 to introduce to the BSU community a new app that will better inform students and staff of the many events happening on campus. 
Each of the seven presenters was given 10 minutes to share his or her ideas. At the end of each presentation, the judges were allowed to ask questions. 
Judges included Chairman of the BSU Foundation Tom Caron, '75; Foundation Trustee Clare Cole, '87; Senior Vice President of Eagle Insurance Group, Mike Cox, '91; Studio25Boston Producer Jim Goff, '87; Foundation Trustee Dave Rumrill, '91; and Andrew Sullivan, '86, chairman and owner of Protectowire Company. 
Connor Hall, '20, and Adam Feldman, '18, each won $1,000. Connor will use his earnings to better market his existing Mansfield-based landscaping business, while Adam will invest the money to start up a $1-per-month online membership to something called The Millionaires Club, a publication featuring money-saving tips for recent college graduates.
All of the presenters received at least $500 in prize money to put toward their business endeavors.
Junior Yvone Mezoff's $500 will be used to explore the possibility of opening a marijuana-friendly Bed and Breakfast in Maine, while Ben Hollis, '20, will take his $500 to invest in advertising for his budding photography business. 
Sophomores Elise Nista, Abby Honstraand Maria Marchione also received $500 for their idea to create a peer-inspired "Student Helping Students" BSU online database, intended to connect struggling students with "student helpers."
Instructor Charles Feldman is credited for bringing a version of Shark Tank to BSU.
"This event is not just about the money. If someone really likes one of these ideas and wants to work with the students that would be great," he said.
President Frederick W. Clark Jr. was in the audience and praised the students' innovation, encouraging them to continue pursuing their ambitions. 
"In this faced-paced, globally connected world, it's important to have an entrepreneurial spirit," he said. "With it, you will succeed. We need to encourage that in all of our students."
The prize money was made available through BSU's Entrepreneurial Leadership Fund. (Story by Heather Harris Michonski, University News)