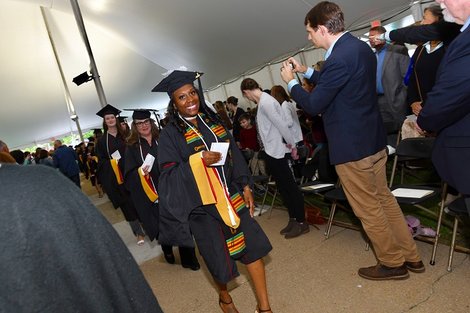 You can't Google your values. That comes from your heart.
Marylou Sudders, secretary of the state Executive Office of Health and Human Services
Story Series
News Feature
When
Debora Coelho
, '11, G'19, was elected to the New Bedford City Council 14 years ago, the seamstress vowed to further her education to help her family and her community.
With a new master of public administration degree under her belt, she's ready to bring her lessons from Bridgewater State University to the coastal city.
"It gave me a voice and a form of communication I didn't have before," said Coelho, of what a Bridgewater education means to her.
Coelho was among about 460 students who earned master's degrees or certificates of advanced graduate study in a Thursday evening ceremony on the Boyden Quadrangle. See a complete list of all BSU students who earned advanced degrees.
President Frederick W. Clark Jr., '83, mixed in references to Hollywood superheroes as he urged graduates to stay off the sidelines because democracy needs people of good will like them.
"Perhaps you don't wear a suit of armor, but that cap and gown shows that you're battle tested and hardened against the challenges that lie ahead," Clark said.
Education, the president said, is the power to make a difference.
"Change begins with you," he said.
When creating that change, take calculated risks, seek advice from others and have a safety net. Few can do it alone, said Marylou Sudders, secretary of the state Executive Office of Health and Human Services.
"It is healthy to reach for the stars, even if you think you might not make it," she said in the commencement address.
Sudders reflected on the values of being a public servant, including treating everyone with dignity and respect and seeking out different perspectives.
"You can't Google your values. That comes from your heart," she said, encouraging graduates to look up from their phones. "On occasion, unplug from your gadget, make eye contact or have a conversation or just take in the beauty of nature and sigh without the benefit of an emoji."
The university highlighted the accomplishments of two student researchers. Jowaun Gamble, '16, G'19, received the Distinguished Graduate Thesis Award while Leah Palmer, G'19, received the Distinguished Graduate Research-Project Award.
Student speaker Lorrie-Michelle Bertrand, G'19, reflected on the challenges graduates overcame –studying all night, postponing family events and facing their own self-doubt.
"Growth does not come from staying in your comfort zone," said Bertrand, a Randolph resident who studied social work. "Discomfort is a never-ending battle with your fears. It's a rollercoaster of doubt. …. But with perseverance, awareness and just a bit of self-care, these voices can be silenced." 
Bertrand urged her fellow graduates to "get comfortable with being uncomfortable" and take chances and apply for their dream jobs.
"This accomplishment today is proof that we are bigger than our fears," she said.
As graduates gathered in Tillinghast Hall to process in front of throngs of friends and family, Anne Smith, '15, G'19, had someone on her mind who wasn't here: grandfather Joe Dziuba.
Dziuba, who went to college later in life, is in a nursing home. Smith, a teacher from Mattapoisett, is eager to show him photos of a ceremony that marks the culmination of undergraduate and graduate English studies at BSU.
"Bridgewater is what set me up for success," she said.
Do you have a BSU story you'd like to share? Email stories@bridgew.edu.