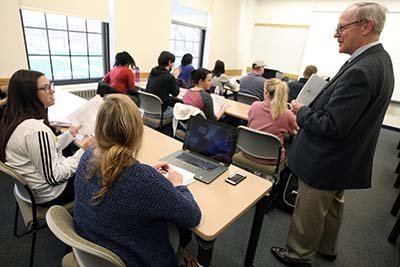 Story Series
News Feature
With a CPA first-time exam pass rate of 61.3 percent and a low undergraduate 19:1 student-to-faculty ration, it's no surprise that Bridgewater State University's master's and bachelor's accounting programs are being recognized nationally. 
Accounting Edu recently included BSU on its "State-by-State Guide to the Most Affordable Bachelor's and Master's Degrees in Accounting 2018-19."
Boston College and BSU were the only two Massachusetts schools featured on the master's list while Bentley joins Bridgewater on the undergraduate list.
MaryBeth Tobin, associate professor and chairperson, spoke on behalf of the BSU Accounting and Finance Department, saying the recognition is a welcome sign of the programs' achievements.
"Our department is very excited and appreciative that Accounting Edu has recognized both our master's and bachelor's accounting programs as among the highest for quality and affordability in Massachusetts," she said. 
Tobin went on to add that, "Our faculty are very proud of our program and particularly our students. It is so rewarding to help our students develop academically and then utilize their knowledge and skills to achieve success in their professional careers."
According to Carly Pierce, senior editor of Accounting Edu, the goal of creating the list is to help potential students interested in accounting find deserving programs that they are confident about recommending. 
"We considered more than just affordability when compiling these lists," Pierce said in an email. "We wanted to find quality programs with strong first-time CPA pass rates as well."
Over the years accounting and finance faculty members have created such programs, working to develop an accounting program that challenges students and helps them reach their academic and professional goals, Tobin said. 
"We often refer to this as 'affordable excellence,' and it is such a pleasure for an independent organization to recognize those exact values," she said.