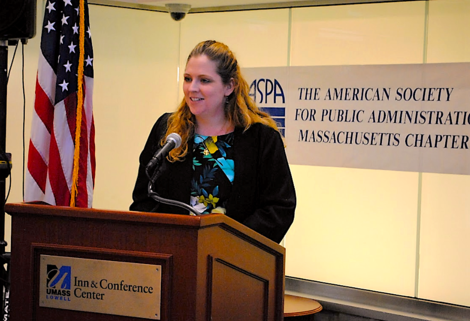 Story Series
News Feature
Meredith Deacon, Bridgewater State University's coordinator of student success interventions, was recently presented with a Robert H. "Tex" McClain Jr. Distinguished Public Administrators of the Year Award.
At a recent ceremony, Ms. Deacon, and Dr. Brenda Bond of Suffolk University, were honored as this year's recipients by the Massachusetts chapter of the American Society for the Public Administration (ASPA). 
The annual award is presented to public administrators who perform exemplary work. All candidates are nominated by their peers and then voted on by state ASPA council members. 
Ms. Deacon received her MPA degree from BSU in 2015. Upon graduation, she was offered her current position. 
As coordinator, she works to address critical challenges in retention and academic achievement among low-income populations. She is also employed at BSU as an adjunct faculty member.
"Without the loving BSU community, and my time in the Massachusetts Public Administrator program in particular, I never would have made it this far… I am deeply blessed to have been supported by such a caring group of faculty and staff along the way," Ms. Deacon said.
Prior to her time at Bridgewater, Ms. Deacon received her bachelor's degree in theology with a minor in human services and rehabilitation studies from Assumption College in 2012. As an undergraduate, she was actively involved in campus ministries, organizing weekly prayer services for students and facilitating social justice events. 
As a service director for the REACH Out Center at Assumption, she also promoted awareness about homelessness and has experience in volunteerism and grant writing. (Story by Heather Harris Michonski, University News)