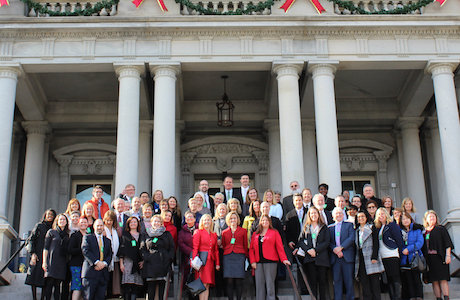 Story Series
News Feature
Leaders of the College of Education and Allied Studies were invited to the White House for a U.S. Department of Education tech summit. The honor commemorated BSU's commitment to technology.
"We are doing teacher preparation at just about the highest level you can do it," said Dr. Lisa Battaglino, dean of CEAS, who traveled to the nation's capital with Associate Dean Jo Hoffman. "There isn't a better place to go in the country than Bridgewater. It's true — our programs are outstanding, our faculty are outstanding and the things that we try to do with technology are important because they are necessary components of any modern teacher prep program."
At the two-day Advancing Educational Technology in Teacher Preparation Innovation Summit, officials from the Department of Education lauded CEAS' commitment to further the innovative use of technology to support the educating of pre-service teachers.
"America's pre-service teachers must be prepared to use technology effectively in the classroom," said Joseph South, director of the Office of Educational Technology. "We are excited by the commitment of Bridgewater State University's College of Education and Allied Studies to ensure their pre-service teachers have opportunities to actively use technology to support learning and teaching through creation, collaboration, and problem solving."
Among CEAS' achievements in technology include being one of fewer than 10 national Apple Distinguished tablet initiative programs at the higher education level, utilizing a virtual classroom program called Mursion, and the implementation of data management systems such as TaskStream. 
The Innovation Summit brought together national leaders in research and education to advance four goals outlined in the 2016 National Education Technology Plan. Those goals include focusing on active use of technology, building sustainable program-wide systems for higher education instructors to strengthen their capacity to use such tools, ensuring pre-service teachers are program-wide and not a single technology-based course and finally, aligning those three goals with research-supported standards across the field. A portion of the summit was held in the Eisenhower Building, which is part of the White House complex.
Dr. Battaglino and Dr. Hoffman were honored to be included in such a gathering of educational pioneers, but not necessarily a surprised to receive the invitation.
"What this [honor] does for me is simply re-confirm our belief that we're doing things that deserve to be recognized," Dr. Hoffman said. Schools today, she added,  "want to hire people who understand technology and are using it. Technology is what kids need to be using in order to learn. It's almost a social justice issue because for some children, the only chance they have to access the plethora of information on the internet is at school. This is what you need to teach today, and meeting students' needs is what it's all about." (Story by Charlie Peters and John Winters, G '11, University News & Media)