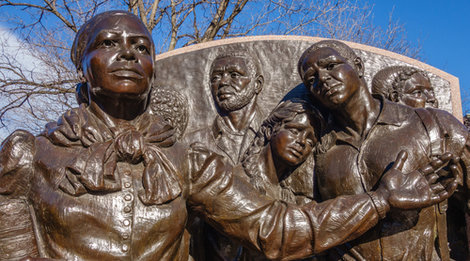 Story Series
News Feature
Students can explore how African Americans have influenced the country and ponder events and topics from different perspectives as part of a new minor.
Through the new program, students discover African Americans' history, experiences and culture, understand more about race and partake in wide-ranging discussions.
"It's that transformative experience for a lot of students," said Dr. Emily Field, assistant professor of English and coordinator of the minor.
Students learn to ask about African Americans' perspectives and influence and study topics in new ways. Students of color learn about stories of their history, said Dr. Field.  
The minor, which began this semester, complements the vibrant African American student groups on campus, she said.
Organizers think it fits well with majors such as anthropology, art history, criminal justice, education, English, history, philosophy, political science, social work and sociology.
"Students can really chart their way through the minor in lots of different directions," said Dr. Field.
Courses that could count toward the required 18 credits cover topics such as African American art, literature and history as well as race and ethnicity. Other areas of study include jazz music, hate crimes and the peoples and cultures of Africa.
The minor includes new courses and ones that have not recently been taught. Many classes may also count toward students' core and major requirements, Dr. Field said.
Faculty from departments such as English, criminal justice, sociology, history, anthropology and special education began developing the minor in 2016. 
A grant from the Martin Richard Institute for Social Justice funded development of a new introductory course. In addition to Dr. Field, faculty involved included: Drs. Delayne Connor (special education), Kimberly Davis (English), and Mia Ortiz (criminal justice)
An estimated 80 to 100 people attended a launch event that included presentations by Dr. Brandon Terry, an assistant professor at Harvard University; Gloria Stanton, '74, G '00, a founding member of the Bridgewater State Afro-American Alumni Association; and current student Briana Crockett, the president of the student spoken word poetry club, Seeds of the Poet-Tree.
For more information about the minor, contact Dr. Field at e1field@bridgew.edu. (Story by Brian Benson, University News)