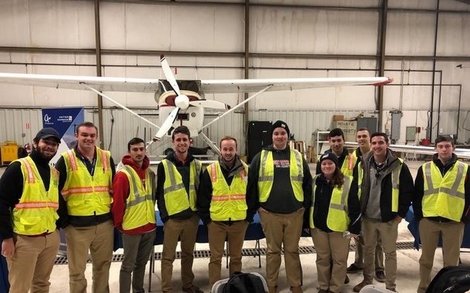 Story Series
News Feature
"Does that mean you do stuff like they did in Top Gun?" Members of Bridgewater State University's flight team get this question all the time. 
Their maneuvers may not mimic those of Goose and Maverick from the 1986 blockbuster film, but the skills these students have are still impressive. 
For the second year in a row the BSU flight team qualified for SAFECON 2019, the signature event of the National Intercollegiate Flying Association (NIFA). The team earned the right to compete after hitting high marks this past fall in the NIFA regionals. 
Flight team captain Dan Kelly, '19, and the team's financial coordinator Nicholas Heyland, are scheduled to fly to Wisconsin, where they will compete with the rest of the team in the 2019 national competition this spring. 
Both men are enrolled in Bridgewater's Aviation Science Program with a concentration in flight training. 
SAFECON is not about speed or showy maneuvers. As the name implies, it's about testing the skills necessary to takeoff, fly and land a plane safely. 
"It's a group of collegiate pilots competing against each other in an academic and skills-based competition," Nicholas said. 
Dan elaborated on what happens during competition, both on the ground and in the cockpit. 
"On the flight side, you have to demonstrate takeoff and landing techniques. During the navigation competition they look to see who is the most precise with fuel calculations and routes," he said. 
"They test our abilities to see how quickly we can do things pertaining to flight, such as fuel burn and the timing it takes to get to a location," Nicholas added. 
Since the team was first formed in 2004, it has seen its share of success with an appearance at last year's NIFA nationals in Terra Haute, Indiana.  
"At the nationals you get to meet college students from around the country, make connections with national airlines, it's a great place to network which is really important for us," Nicholas said. 
Both men plan to pursue careers as pilots, so networking during competitions is key to opening doors. Potential employers like prospects who have competed on a flight team. 
"It shows you were involved in school, and airlines like to see that because it shows that you have a certain set of skills," Dan said. 
As the two seniors look toward graduation, they are seeking others willing to take part and continue the BSU flight team legacy.
"Dan is the one who got me hooked and brought me onto the team," Nicholas said. "You'll find the aviation community here on campus is pretty tight."
While you can't compete until you have a minimum number of flying hours, you can still be part of the team if you have an interest in aviation. 
"Come to a meeting," Dan said.
SAFECON 2019 will be hosted by the University of Wisconsin, and held at the Southern Wisconsin Regional Airport from May 13-18. For more information email either D5KELLY@student.bridgew.edu or NHEYLAND@student.bridgew.edu. (Story by Heather Harris Michonski, University News & Video)
Do you have a BSU story you'd like to share? Email stories@bridgew.edu.