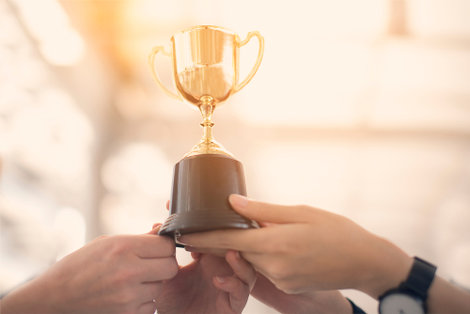 Story Series
News Feature
Longtime Brockton public school administrator June A. Saba-Maguire, '94, G'04, recently earned a prestigious leadership award in part for her efforts to expand relationships between the district and her alma mater.
Ms. Saba-Maguire, chief academic officer for the Brockton public schools, was selected by the Metro South Chamber of Commerce as the 20th recipient of its annual ATHENA Leadership Award.
The award is presented by local organizations in the United States and other nations to honor women as well as men for their  professional excellence, community service, and efforts to assist women in achieving their career and leadership goals.
"I'm really honored and humbled to be recognized in the way so many other women I so admire have been recognized in the past," said Ms. Saba-Maguire, noting in particular that Brockton School Superintendent Kathleen Smith, whom she considers a mentor, previously won the award.
In selecting Ms. Saba-Maguire, the chamber cited, among other accomplishments, her work in developing the Footbridge program that brings 4th- and 5th-grade Brockton students to BSU for two weeks each summer, and her work to expand the "education block" time that BSU juniors preparing to become teachers spend in the Brockton schools.
Ms. Saba-Maguire said she initially forged those connections with BSU as principal of Brockton's former Huntington Elementary School, believing that Brockton teachers and students and BSUundergraduates could all benefit.
"It became a really natural partnership," she said, noting that she and Dr. Lisa Battaglino, dean of BSU's College of Education and Allied Studies were both "really excited and passionate" about the expanded collaboration.
An elementary education major at BSU, Ms. Saba-Maguire returned to campus to receive a certificate of advanced graduate studies in educational leadership, later earning a masters' degree in education from Cambridge College.
She credits BSU with preparing her well for her careers, recalling the encouragement and mentoring she received from professors and administrators during her time on campus.
Officials in the Brockton schools say Ms. Saba-Maguire has provided similar support and guidance to colleagues during her 24 years as a teacher and administrator in the district.
"That kind of work is important to me," Ms. Saba-Maguire said, calling it a  matter of "looking to identify what people's strengths are and making sure they have an opportunity to use those talents."(Story by John Laidler for University News)