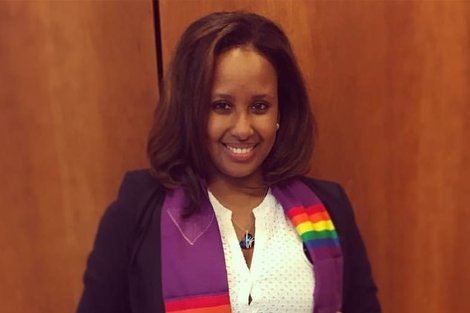 Story Series
News Feature
Carla B. Monteiro, '17, remembers good times but also more than her share of funerals growing up in a Dorchester neighborhood that faced gun violence and other crime.
"Sometimes, I'd look at photos and I'm the only person alive," said Monteiro.
Monteiro always tried to help her neighbors and friends.
"I've sort of always been the unofficial social worker," she said, recalling times she'd shared job prospects and provided emotional support to others. "It's something I've always done."
 With her social work degree from Bridgewater State University in hand, Monteiro aims to again help others, this time with fundamental knowledge thanks to her education. She praised the supportive atmosphere her BSU professors fostered and their willingness to meet one-on-one.
Monteiro, who earned an associate's degree from Quincy College, once wanted to be a police officer, but couldn't because of previously undiagnosed anxiety. 
Clearly, she's found her calling. This month, Monteiro will receive the 2019 Future of Social Work award from the National Association of Social Workers' Massachusetts chapter.
"Carla has a well-established legacy of relentless advocacy for disenfranchised minorities and those in need," the association wrote. "She has earned the respect of her peers, her colleagues across all disciplines, and her patients."
Among her endeavors, Monteiro (pictured above on the left at a Big Sisters event) founded the Cape Verdean Social Workers Association and volunteers with the Big Sisters Association of Greater Boston. She's also traveled to the Arizona-Mexico border to aid migrants.
"I do a lot of work in the community because that's what I feel in my heart I'm supposed to do," she said. "I never do it for any accolades."
Nevertheless, she is honored to receive the award, something social work
Professor David O'Malley
thinks she deserves. 
"Despite all of the profound effects of trauma, Carla is someone who really has the spirit of resilience that is infectious," Dr. O'Malley said.
O'Malley was the liaison for Monteiro's internship at the Suffolk County House of Correction, where she helped run a women's self-empowerment group.
"She is someone who had an incredible ability to, even in a complex and tough environment of a correctional facility, bring a degree of humanity and compassion," he said.
Now a graduate student at Boston College, Monteiro works at the Brigham Health Bridge Clinic helping substance use patients. She interns in Brigham and Women's Hospital's emergency department.
"My mother said that God would bless us as long as we had an open heart, and I feel like this award is my blessing because it made me reflect on where I was and where I am now," she said. "I am grateful." (Story by Brian Benson, University News & Video)
Do you have a BSU story you'd like to share? Email stories@bridgew.edu.