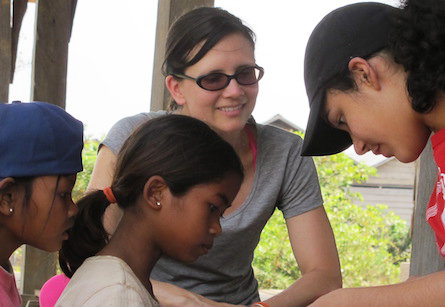 Story Series
News Feature
Her career goal is to become an academic adviser in higher education, but Amy Heine, G '17, recently had a chance to put her service skills to work in a much different environment – the countryside of Southeast Asia.
The Plymouth resident, along with eight BSU undergraduates, joined biology Professor Kevin Curry on a 10-day trip to Cambodia in March to help provide clean drinking water to residents of a rural village.
The service trip was the latest in an ongoing series that Dr. Curry has taken over the past decade – many with BSU students – to install residential drinking water filtration systems in Cambodian villages.
"It was very exciting and very humbling," said Ms. Heine, who is also a graduate assistant in the Communications and Outreach Office of the College of Graduate Studies.
She came away from the experience impressed by the sense of community she found in Cambodia.
"Within the villages, they are very close knit. I found that very powerful," she said. "And the people we countered were very gracious."
Dr. Curry's work, which he undertakes in collaboration the organization, Water for Cambodia, also seeks to raise awareness the connection between unsanitary water and microbial associated diseases. A large part of Cambodia lacks clean water.
In Cambodia, Ms. Heine said the team spent a day at Water for Cambodia's headquarters in the city of Siem Reap, helping to make the cement water filters.
The team spent the next three days at a village two hours from the city, assisting the organization's Cambodian employees in installing the devices. Sand and gravel in the filters cleans water that villagers deposit into it from their wells or a local body of water. The group also spent time visiting Pannasastra University of Cambodia, BSU's collaborating partner institution in Siem Reap.
Ms. Heine said though not directly connected to her degree, the trip would still be helpful to her future career:"I'm hoping to work with underrepresented populations in higher education, and just working with people from different cultures and learning how to be comfortable with that" is a valuable experience. (Photo in window via Shutterstock)