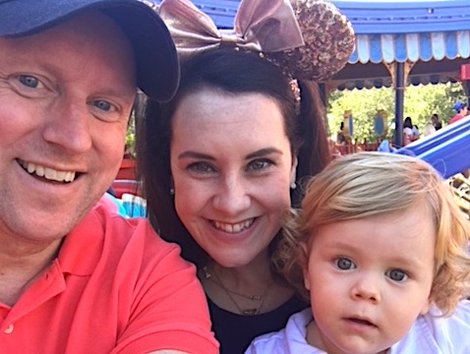 Story Series
News Feature
When Amy (Riendeau) Baker, '03, came to Bridgewater State, she admits to being shy. Today in her career at Walt Disney World, she's anything but. As wedding services manager for the company's Fairy Tale Weddings, she helps make people's dreams come true. 
Recently, Ms. Baker's work was spotlighted when one of the weddings she planned was showcased on Disney's Fairy Tale Weddings: Holiday Magic special that aired Dec. 11 on Disney's Freeform network. 
Growing up, Ms. Baker loved visiting Walt Disney World. She's now worked for the company for 14 years, the last eight as a wedding event services manager. 
Being on television was a new experience for her.
"It was fun. It gave me a unique behind-the-scenes view of a television show. I'd never worked with a production crew before," said Ms. Baker, who is planning another wedding that will be featured on a future show. 
Ms. Baker is part of a team that plans about 1,200 weddings per year at Walt Disney World.
"We plan all aspects of their wedding and the events surrounding it, and we are there with the couples on the wedding day to execute the ceremony and reception," she said. While it is fast paced and often stressful, she said the work is also rewarding.
It's particularly fulfilling, she said, when couples "walk into their reception room and see for the first time the beautiful space we have designed for them, and at the end of the night when they say, 'You've made all our dreams come true.' That's pretty special."
A Disney bride herself, Ms. Baker lives near Orlando, Fla., with her husband, Trent, and their son, Brady, 2.
Her work at Walt Disney World began with two internships through the Disney College Program. That led to her being hired by Disney after her graduation from BSU. Beginning as a concierge, she held a series of jobs within Disney's Parks and Resorts and Disney's Fairy Tale Weddings before assuming her current role.
Ms. Baker, who majored in communication studies and minored in management, said BSU provided good preparation for her career.
"A huge part of my job is building relationships with clients. I was a shy person growing up and I really felt I came out of my shell at Bridgewater State," she said, citing her involvement with the Student Government Association, and other campus experiences. "I found my voice and my passion." (Story by John Laidler for University News)