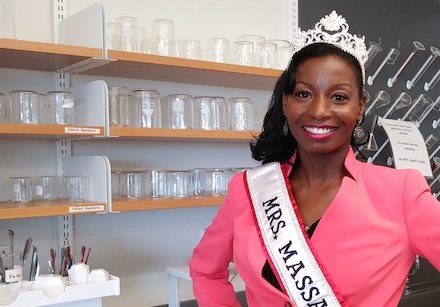 Story Series
News Feature
Chakara White-Cardillo, '01, wears many hats, including classroom teacher, CPR instructor, real estate agent, and competitive ballroom dancer. Now she can add "pageant winner" to that list. 
The Randolph resident was crowed as this year's Mrs. Massachusetts at a pageant in May, qualifying her to compete in the Mrs. America pageant the week of Aug. 19-26 in Las Vegas.
"I'm so humbled," said Mrs. White-Cardillo, noting that with the title comes the responsibility to be a role model to girls and young women. "It's a great honor."
Her passion for inspiring others, particularly young people, led her to her job as a teacher at Brockton Community Middle School.
After a year of teaching science, she switched to engineering last year, becoming certified to use Project Lead the Way's specialized STEM curriculum. She was also named one of Randolph's "spotlight teachers," during the year, a designation that recognizes exemplary teachers.
At BSU, Mrs. White-Cardillo majored in biology and minored in chemistry, envisioning a career in medicine. But interested in exploring other paths, she has worked in various corporate offices, as a realtor, and as a certified CPR and first aid instructor, an experience that helped spark her interest in teaching.
"I love inspiring children to think beyond the immediate horizon," she said. "I want them to use their imagination. That's what my classes are all about, being able to creatively solve problems."
Outside of work, Mrs. White-Cardillo has found time to pursue her passion for ballroom dancing, and to compete in beauty pageants, including two earlier bids for the Mrs. Massachusetts title.
Mrs. White-Cardillo who returns periodically to campus for professional development courses, credits BSU with helping build her professional and life skills.
"There are things I do today in the classroom that I learned from them," she said of her professors as well as the administrators she came to know during four years in a work study job in the president's office. "They were definitely positive people that helped make me who I am today."